FEATURE: Economic downturn boosts fishing
CROWDED Old-time anglers say they have never seen a surge of interest in fishing quite like this one and that it is now often very difficult to find space to fish on piers
Experienced recreational fishermen have long enjoyed outings on the the nation's picturesque coasts and river estuaries, catching fish in peace while enjoying the great outdoors.
Not any more.
The global economic downturn has swollen the ranks of Taiwan's unemployed desperate for inexpensive ways to pass their expanded leisure time, leading to an explosion of anglers at major fishing spots around the island and a sharp increase in sales at fishing tackle stores.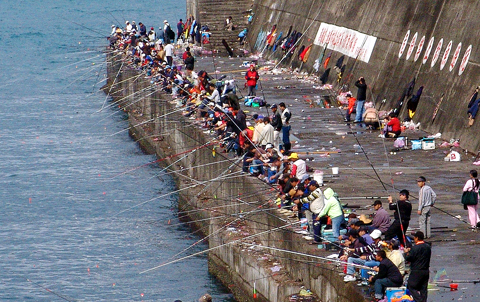 The breakwater at Badouzih fishing port in Keelung is crowded with people fishing yesterday.
PHOTO: CNA
The prime fishing areas on Taiwan's northern coastline are now jammed with anglers, leading to complaints among old hands that they are finding it increasingly difficult to enjoy their favorite pastime.
Hsiao-lee, an enthusiastic angler who has been fishing at Keelung's Badouzih (八斗子) fishing port for more than 10 years, said the area has never been more congested.
"Maybe it's because of the dramatic increase in the number of unemployed," he said.
Hsiao-lee says that in the past, whenever he received information from weather reports or other anglers that shoals of fish were passing through, he would only have to leave home early in the morning to get a prime spot around Badouzih.
"But these days, I have to brave the early morning chill and leave home well before dawn. Even then, I often can't find a spot at a coastal fishing site, far less an ideal one," he said.
The increase in the number of fishermen can also be seen at nearby Bisha (白沙) fishing port, east of Keelung City.
A-chang, a ruddy-faced fish vendor at the port who fishes both as a hobby and sometimes as a way to supplement his income, said the number of coastal anglers has increased substantially in the past few months, with many of them novices.
He found a positive side, however, to the phenomenon.
"In recent months, I have from time to time experienced the joy of helping some of these novice anglers catch their first fish," he said. "It's a feeling second to none in the angling world."
Among his new fishing buddies is Bill Ting, a middle-aged textile mechanic who lost his job two months ago. Ting said he found angling to be a good way for unemployed people to kill time.
"The experience of throwing a line from shore in the cool autumn air is comfortable and even therapeutic," Ting said.
A fishing greenhorn, Ting said he felt a "love and respect" for the first fish he caught last week with the assistance of A-chang — so much so that he released it back into the sea.
"I don't care whether I catch a fish or not. I just like the feeling of sitting on the shore and watching the clear water shimmering under rays of sunlight in the gentle breeze or at dusk," he said.
Not all anglers were as lyrical as Ting, but many talked about their great joy and sense of achievement in catching a fish, while others said they liked the sense of a shared passion and chatting with fellow anglers.
Lin Chia-han, a computer hardware engineer in Taiwan's high-tech heartland, the Hsinchu Science Park, said he has been passionate about fishing for a long time and that the Fongshan stream in Jhubei City (竹北) is one of his favorite haunts.
"In the past, the number of anglers would usually be in the single digits on weekdays, but now they turn up in hordes and pack both sides of the river," said Lin, who was forced to take unpaid leave by his employer, a memory chip vendor.
In the latest government statistics, the unemployment rate surged to a five-year high of 4.37 percent for October, with 35,000 laid off during the month because of downsizing or company closures. More than 470,000 people were out of work around the country.
The growing number of anglers has helped the fishing tackle business emerge as a rare bright spot in the generally gloomy local retail sector.
While industry-wide sales figures are hard to come by, anecdotal evidence indicates revenues have grown considerably at fishing gear outlets around the country.
Chiu Ching-tung, the owner of a fishing tackle shop in the northeastern coastal town of Suao (蘇澳) in Ilan County, said the area has seen a noticeable rise in the number of anglers, though partly because winter was the peak fishing season.
"While old customers remain the mainstay of my clientele, there have also been many fresh faces," said Chu, who estimated that his turnover had grown between 20 percent and 30 percent in the past couple of months alone.
Meanwhile, Lin Ming-hua, the proprietor of a tackle shop in Kaohsiung City, echoed Chiu's estimates, saying that his business had risen by around 30 percent in recent months.
"In addition to old patrons, I am also serving many newcomers, including those from neighboring cities and counties or even from central and northern Taiwan," Lin said.
Comments will be moderated. Keep comments relevant to the article. Remarks containing abusive and obscene language, personal attacks of any kind or promotion will be removed and the user banned. Final decision will be at the discretion of the Taipei Times.