Groups ask CLA to crack down on salary violations
Members of several workers' associations gathered in front of the Council of Labor Affairs building yesterday to protest alleged violations of minimum salary regulations by companies who force employees to take unpaid leave.
The protesters called on the council to crack down on businesses that violate the law.
Many businesses have announced pay cuts in the past few months, with some asking workers to take unpaid leave to help cut costs. Last week, the council announced that firms were allowed to pay full-time employees less than the minimum monthly salary of NT$17,280 by forcing them to take unpaid leave. But after widespread criticism, it reversed its position on Tuesday.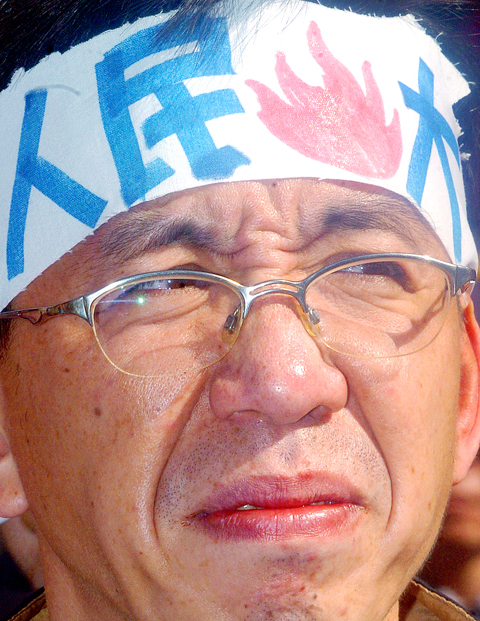 A man sports a headband with the flame symbol of Raging Citizens Act Now! at a protest outside the Council of Labor Affairs in Taipei yesterday.
PHOTO: CHANG CHIA-MING, TAIPEI TIMES
The protest was organized by Raging Citizens Act Now! (RCAN) and gathered more than 50 representatives from several labor associations, including the Confederation of Taipei Trade Unions and the Taiwan International Workers' Association.
The protesters carried signs and shouted: "Bad economy, workers are betrayed," "the government should help workers negotiate" and "pay cuts disguised as unpaid leave."
"We are giving one week for [CLA Minister] Jennifer Wang [王如玄] to review businesses and immediately penalize any that violate the law," RCAN spokesperson Lai Hsiang-ling (賴香伶) shouted. "Violators should not be eligible for bailout funds from the government."
The protesters also demanded that employment stimulus programs, such as the 'get to work immediately' plan that applies only to the unemployed, be extended to workers forced to take unpaid leave.
"[The CLA] has many tools to stimulate employment, but so far, only verbal promises have been made. The CLA needs to show real commitment," she said.
The protesters threw rice bowls at the ground to symbolize the CLA's failure to help workers keep their jobs.
"Our rice bowls will eventually break," Lai said.
They also threw rice at the CLA building.
After some shoving between police and protesters, Huang Wei-shen (黃維琛), head of the council's labor standards section, came out of the building and spoke to the protesters.
He reiterated the council's decision that businesses could not force workers to take unpaid leave and that workers could file complaints if their employers did so.
Comments will be moderated. Keep comments relevant to the article. Remarks containing abusive and obscene language, personal attacks of any kind or promotion will be removed and the user banned. Final decision will be at the discretion of the Taipei Times.