Gondola's ability to withstand earthquake weakened
Mudslides and erosion around a support pillar of the Maokong Gondola system have had a negative impact on the system's capability to withstand an earthquake, but the stability of the pillar would otherwise not be affected, a civil engineering expert said yesterday.
Days before the final evaluation report on the safety of the gondola is expected to be delivered, Shannon Lee (李咸亨), a spokesman for the civil engineering groups invited by the Taipei City Government to conduct the report, said erosion under the pillar — caused by mudslides during a typhoon in September — had reduced the system's resistance to earthquakes by about 8 percent.
There is no immediate danger that the pillar would collapse, Lee said, while dismissing concerns by local residents that the mudslides were caused by the construction of the system.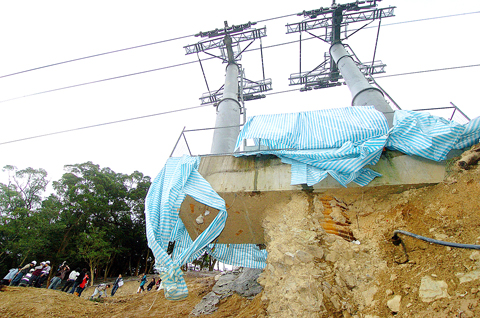 Construction workers work on the foundation of the No. 16 support pillar of the Maokong Gondola system yesterday.
PHOTO: FANG PIN-CHAO, TAIPEI TIMES
"Judging from the quality of the soil and the overall geology in the area, the mudslides could have happened even if the gondola had not been built," he said at Taipei City Hall.
The gondola system, completed last year but started under former Taipei mayor Ma Ying-jeou (馬英九), suspended operations last month after mudslides created by Typhoon Jangmi left a 2.5m gap beneath one of the support pillars.
Taipei Mayor Hau Lung-bin (郝龍斌) has refused to acknowledge that the gondola service was suspended over safety concerns and maintains that the move was made to appease public fears.
Lee declined to comment on the evaluation of the system.
Hau said the city government would respect the report, adding that the safety of residents and visitors was the city government's only priority.
The report will be published on Sunday. Hau said the city government would announce its decision on how to proceed in about two weeks.
Comments will be moderated. Keep comments relevant to the article. Remarks containing abusive and obscene language, personal attacks of any kind or promotion will be removed and the user banned. Final decision will be at the discretion of the Taipei Times.