Legislators bicker over assembly law
WAR OF WORDS DPP and KMT lawmakers traded barbs over amendments to the law, which one KMT legislator said was sure to lead to unrest and daily demonstrations
Chinese Nationalist Party (KMT) and Democratic Progressive Party (DPP) lawmakers waged a war of words yesterday as they accused each other of slowing down or blocking the Assembly and Parade Law (集會遊行法) revision process.
The legislature's Internal Administration Committee had been scheduled to review draft amendments submitted by both parties yesterday.
However, DPP caucus whip William Lai (賴清德) protested when KMT Legislator Wu Yu-sheng (吳育昇), the committee's convener, said the legislature should wait for the Cabinet to propose its own draft amendment and hold a public hearing next Thursday.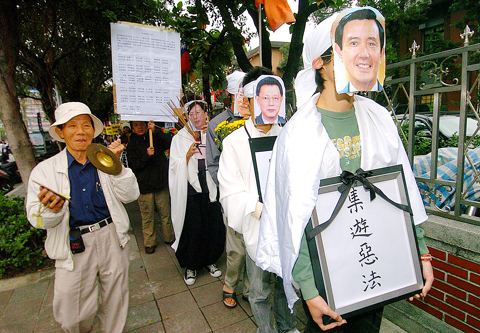 Protesters demand amendments to the Assembly and Parade Law outside the legislature in Taipei yesterday. The protesters walked around the Legislative Yuan, saying that the law was unconstitutional in its current form.
PHOTO: CHIEN JUNG-FONG, TAIPEI TIMES
"You're trying to delay the [law revision] process by holding yet another public hearing next week," Lai said.
"We should start an article-by-article review after a general discussion today," he said.
Wu disagreed, saying that the goal of a public hearing was "to hear opinions from different people, including the Wild Strawberries," in a bid to improve the quality of the amendment.
The "Wild Strawberry Movement" refers to a group of college students staging a silent sit-in protest at Liberty Square in Taipei since Nov. 6. Their demands include revision of the law.
"If the DPP is opposed to a public hearing, then you should go out and tell the Wild Strawberries," Wu said.
The dispute intensified when DPP lawmakers accused the KMT of having a long history of blocking revisions to the law.
"During a meeting in 2006 over which you, Wu Yu-sheng, presided, you tried to block the Assembly and Parade Law amendment process," Lai said.
"I've always respected you, Legislator Lai, but as a politician, you should not lie," Wu shouted back.
"Yes, there was a public hearing in 2006, and yes, I presided over the meeting — but it was the DPP that opposed an article-by-article review [of the Assembly and Parade Law] afterwards," Wu said.
Several DPP and KMT lawmakers joined their colleagues in the debate, but the two sides failed to reach a consensus, leaving the Assembly and Parade Law amendment process stalled.
Later, a few KMT legislators including Wang Jin-shih (王進士) expressed concern that revising the Assembly and Parade Law might result in too many protests.
If the requirement for event organizers to seek approval from law enforcement authorities before holding a rally is rescinded, "then there may be demonstrations every day, which could lead to social unrest," Wang said.
"As long as people don't open their minds, and bear hatred in their minds, they will take it to the street every day," Wang added.
Comments will be moderated. Keep comments relevant to the article. Remarks containing abusive and obscene language, personal attacks of any kind or promotion will be removed and the user banned. Final decision will be at the discretion of the Taipei Times.