Students plan 'strawberry tower'
NOT GIVING UP With their numbers dwindling, the Liberty Square sit-in protesters' blog seemed to accuse their leaders of fueling emotional friction
The students staging sit-ins around the nation in protest at what they call the use of excessive force by police to disperse demonstrators during the recent visit by a Chinese envoy are planning to build an art installation at the Taiwan Democracy Memorial Hall in Taipei to symbolize their opposition to authoritarianism.
Lee Li-wei (李立偉), spokesman of the Wild Strawberry Student Movement staging the sit-in at the hall's Liberty Square, told the Taipei Times yesterday that the student demonstrators were planning to build a "strawberry tower," a bamboo art piece 6m to 7m in height, at the square.
"We hope to highlight our efforts to breach an authoritarian space and our refusal to conform" to authoritarian rule, he said.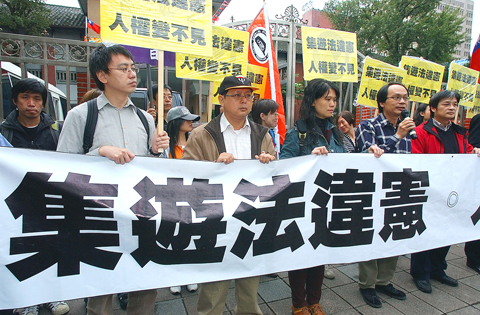 Members of the Taiwan Association for Human Rights and other civic groups assemble outside the Legislative Yuan in Taipei yesterday to call on lawmakers to pass amendments to the Assembly and Parade Law. The sit-in protesters at Liberty Square have issued the same demand.
PHOTO: CNA
The students began their sit-in in front of the Executive Yuan on Nov. 6. They reconvened their sit-in at Liberty Square after being evicted from the Executive Yuan by the police because they had not applied for a demonstration permit.
The students have called for the immediate amendment of the Assembly and Parade Law (集會遊行法) to rescind the requirement for event organizers to seek approval from law enforcement authorities before holding a rally. In addition, the students are demanding a public apology from President Ma Ying-jeou (馬英九) and Premier Liu Chao-shiuan (劉兆玄) over the police's handling of protests, as well as the replacement of National Security Bureau Director-­General Tsai Chao-ming (蔡朝明) and National Police Agency Director-­General Wang Cho-chun (王卓鈞).
A number of student groups have launched sit-ins nationwide in support of the students in Taipei.
Lee said the number of students participating in the Liberty Square sit-in had dropped sharply to a maximum of 40 to 50 students per day.
More than 500 students from around the nation protested at Liberty Square on Saturday.
Lee did not specify the reasons for the dwindling numbers, but an article posted on the students' Web blog, action1106.blogspot.com, said that "everyone was tired" and that "some of the student leaders influenced participants' spirits by bringing in their personal emotions" to the sit-in.
Lee said the protesters who remained at the square would not give up.
They hope to raise other people's awareness of the movement's agenda by distributing flyers on the street or holding conferences in colleges around the nation, Lee said.
Comments will be moderated. Keep comments relevant to the article. Remarks containing abusive and obscene language, personal attacks of any kind or promotion will be removed and the user banned. Final decision will be at the discretion of the Taipei Times.