Protesters heckle Ma ahead of meeting
HEAD OF STATE During an interview with a radio station, the president vowed to protect Taiwan's sovereignty, joking that he hoped he would be called 'president'
Protesters in Changhua County heckled President Ma Ying-jeou (馬英九) yesterday ahead of tomorrow's arrival of Association for Relations Across the Taiwan Strait (ARATS) Chairman Chen Yunlin (陳雲林) for a second round of cross-strait negotiations.
Dozens of pan-green protesters accused Ma of "selling out" Taiwan and shouted "Ma Ying-jeou, step down!" as he arrived for a dedication ceremony for a century-old Buddhist temple in Lukang Township (鹿港).
Holding up banners that read "Taiwan is a sovereign, independent country" and "Traitor to Taiwan," the protesters chanted against what they called Ma's China-leaning policies and said that "Regional Head Ma" must step down immediately before he destroys Taiwan's hard-won democracy.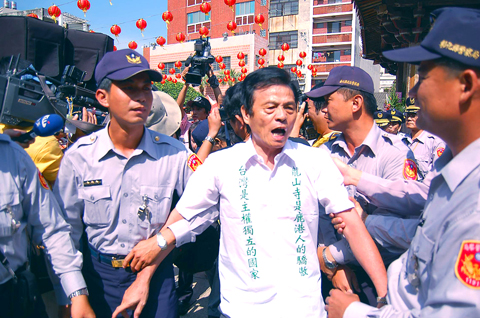 Liang Chen-hsiang, a Changhua County councilor of the opposition Democratic Progressive Party, shouts slogans yesterday as police remove him from the Longshan Temple in Lukang Township during President Ma Ying-jeou's visit. His shirt bears the words "Taiwan is an independent sovereign state."
PHOTO: WANG PAI-LIEN, TAIPEI TIMES
A minor scuffle broke out when protesters, led by a Democratic Progressive Party (DPP) councilor, tried to confront Ma inside the temple. Police apprehended several protesters and dragged them out of the temple.
"Ma's personal police won't let me go worship in the temple," one protester angrily yelled, saying he lost his religious freedom when the police prohibited him and his group from entering the temple ground.
Ma did not acknowledge the protesters and made no comment.
Later, during an interview with a local radio station in Taichung, Ma vowed to protect Taiwan's sovereignty as the nation's leader, while joking about placing a bet with the radio show host over whether Chen would address him as "President Ma" when they met this week.
"You [would] bet he calls me [President Ma]? I hope you win," the president told the radio show host.
Ma said later that he would implement his "three noes" policy in handling relations with China.
The "three noes" referred to no pursuit of unification, no Taiwanese independence and no use of force.
Meanwhile, former vice president Annette Lu (呂秀蓮) yesterday urged Ma to skip the meeting with Chen in order to prevent the country's sovereignty from being belittled.
"President Ma should not meet Chen if he sees himself as the leader of the ROC. His rank is higher than Chen's, and the people in Taiwan should protest if he insists on meeting Chen," Lu told a press conference yesterday after returning from a trip to Mexico.
"ARATS is not an official organization, and President Ma should not act like a daughter-in-law who is going to meet the Chinese in-laws," she said, adding that Premier Liu Chao-shiuan (劉兆玄) should also refuse to meet Chen.
Lu further condemned the government for deploying over 7,000 police to maintain public order for Chen's upcoming visit of Chen, while calling on DPP members and supporters to treat the Chinese official as a guest and demonstrate a democratic spirit to the Chinese delegates as long as he does not humiliate Taiwan's sovereignty during his visit.
"We should give Chen Yunlin a chance to see that Taiwan is a democratic sovereignty and that we have our own culture," she said.
DPP Chairwoman Tsai Ing-wen (蔡英文) said that Chen must refer to Ma as "president" if they meet, or Ma must cancel the meeting if he refuses to do so.
ADDITIONAL REPORTING BY RICH CHANG
Comments will be moderated. Keep comments relevant to the article. Remarks containing abusive and obscene language, personal attacks of any kind or promotion will be removed and the user banned. Final decision will be at the discretion of the Taipei Times.