Researchers build green scooter that runs on air
A National Central University professor and student have succeeded in creating a motorcycle that runs on air.
At a press conference in Taipei yesterday, Hwang Yean-ren (黃衍任), a mechanical engineer, said they had created a prototype scooter by removing the fuel tank from a motorcycle they had obtained from a junkyard and replacing its engine with an air motor.
The air motor is driven by high-pressure air coming from a compressed air bottle attached to the side of the scooter, Hwang said.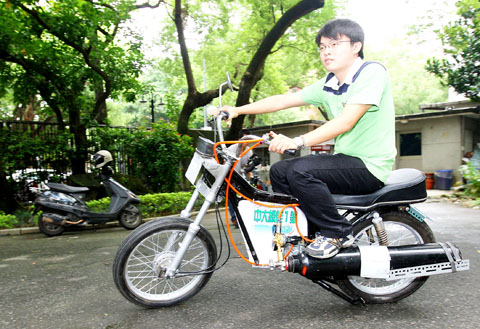 Shen Yu-ta, a doctoral student at National Central University, rides an eco-friendly scooter at a press conference yesterday in Taipei.
PHOTO: CNA
The research team is the first in the world to develop an air-powered scooter, Hwang said.
Citing the Environmental Protection Administration (EPA), Hwang said the number of scooters in Taiwan had increased by 4.2 million to 14.2 million since 1993.
An EPA survey this year showed that about 53 percent of respondents complained about air pollution, and 58.1 percent attributed it to scooters, he said.
Shen Yu-ta (沈毓達), the doctoral student who participated in the research, said their prototype could travel at a maximum speed of 30kph for 1.2km using a 10-liter bottle of compressed air.
Hwang said the prototype would be able to travel at a higher speed if the structure of the motorcycle were refined to accommodate a larger amount of high-pressure air.
Hwang said that more tests are needed to improve the efficiency of the prototype and reduce the amount of noise it creates.
Comments will be moderated. Keep comments relevant to the article. Remarks containing abusive and obscene language, personal attacks of any kind or promotion will be removed and the user banned. Final decision will be at the discretion of the Taipei Times.