MOJ probes alleged leak to Ker
Prosecutors said yesterday they were investigating a case in which a former chief of the Ministry of Justice's Investigation Bureau (MJIB) allegedly leaked investigation and raid information to Democratic Progressive Party (DPP) Legislator Ker Chien-ming (柯建銘).


Former MJIB chief Yeh Sheng-mao (葉盛茂), who left his post in June, is suspected of involvement in the case, the prosecutors said.


Officials from the special investigation panel of the Supreme Prosecutors Office probed a case in which Ker was suspected of receiving kickbacks to lobby on behalf of RSEA Engineering Corp (榮民工程公司) after a marble mine factory it operated in Hualien was accused of violating environmental regulations.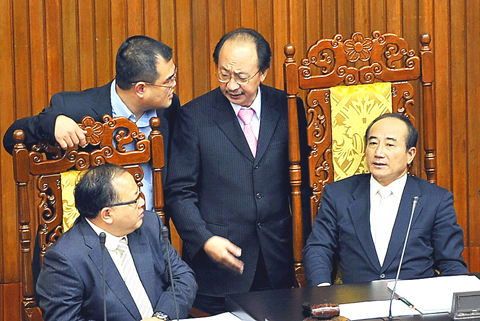 Democratic Progressive Party Legislator Ker Chien-ming, center, talks with Chinese Nationalist Party (KMT) caucus whip Lin Yi-shih, standing left, and Legislative Speaker Wang Jin-pyng, right, in the legislature on July 18.
PHOTO: CNA
Prosecutors said investigators were scheduled to raid Ker's legislative office and residence on April 14, but Ker appeared at the prosecutors' office to explain the matter on April 11. Prosecutors suspected a ministry insider had leaked details of the raid to Ker.


Prosecutors said they had interviewed MJIB head Wu Ying (吳瑛), Tang Ker-yuan (湯克遠), who is in charge of Ker's case, and others involved in the case to attempt to identify the source of the leak.


The prosecutors said they had learned that Ker had asked Yeh to meet him at his office in the legislature after hearing he was a target in the kickback investigation. Yeh called Tang from Ker's office to ask him for some information about the investigation, they said.


The leak might have occurred during the meeting between Ker and Yeh, prosecutors said.


When approached for comment, Ker said he met Yeh in his office only to ask whether the MJIB had tapped his telephone. Yeh did not leak any details of the probe, Ker said.


Ker also said he had not taken money from RSEA.


The MJIB yesterday said the bureau had no comment on the ongoing investigation.
Comments will be moderated. Keep comments relevant to the article. Remarks containing abusive and obscene language, personal attacks of any kind or promotion will be removed and the user banned. Final decision will be at the discretion of the Taipei Times.