Coral reef threatened by Chinese
SCOURGE Unquenched appetite for Hong Kong's world- famous Cantonese seafood, like fish and lobster, is the principal reason behind the threat
Chinese fishermen have been accused of poaching in Taiwan's first marine national park, where authorities say their destructive methods are endangering the area's ecology.
"Chinese fishing boats have been posing the gravest threat to the fragile ecological system here," said Shaw I-pung (蕭一鵬) of the Marine National Park headquarters, speaking of the tiny coral atoll called Dongsha Island.
"They have been using illegal methods like poisons, dynamite and electricity to exploit marine resources in the region," he said.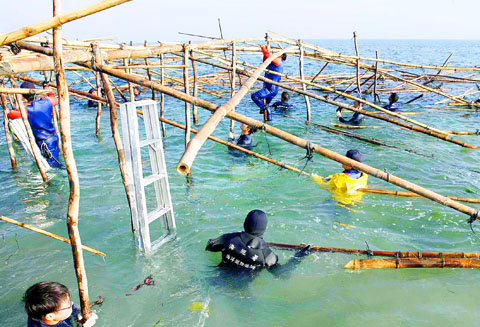 Coast Guard officials are pictured removing an illegal bamboo shelter built by Chinese fishermen near Dongsha Island in the South China sea on Jan. 19, 2005.
PHOTO: AFP
The scourge of boats scouring the seabed for food destined for Hong Kong restaurants is combining with global warming as a major cause of coral reef bleaching, he said.
The Dongsha Islands, comprising Dongsha Island and two coral reefs which are submerged at high tide, straddles a strategically important sea route at the north of the South China Sea linking the Pacific and Indian oceans.
The island is a coral atoll with a land area of 2.4km². It measures 0.9km from east to west, and 2.7km from north to south.
Shaw said the unquenched appetite for Hong Kong's famed Cantonese seafood is to blame.
"Most of the marine catches here, like fishes and lobsters, are quickly sent to Hong Kong, which touts itself as the world's biggest living fish market," he said.
Chinese fishermen, plus some Vietnamese, use cyanide to stun fish and catch them live for higher commercial prices, he said.
"Cabrilla can be sold for US$30 per kilo in Hong Kong and some other fish even sell for up to US$100 per kilo," Shaw said.
Dongsha is 267km away from Hong Kong and 380km from Kaohsiung City.
"Smaller fish and corals were destroyed by the poisons, largely cyanide, which is easily available in China," Shaw said.
However, "the destructive way of fishing has been endangering the coral reefs near Dongsha," which Shaw described as an "ocean rain forest" and a biodiversity hot spot.
Academics found there are 264 species of coral, 556 species of fish and 140 species of bird — many of them migratory — in that area.
Taiwan's coast guard says it has stopped 3,820 ships infiltrating the prohibited Dongsha waters since they were deployed in 2000.
Taiwan withdrew its Marines from Dongsha in 2000 in what the government said was a move to help alleviate tensions in the South China Sea.
Currently there are around 200 coast guard personnel are stationed on Dongsha and armed with a fleet of six patrol boats — three 10-tonne vessels and three other eight-tonne boats. There are no civilian inhabitants.
But the fleet is apparently not strong enough to serve as a "deterrent" to the Chinese and Vietnamese invaders.
"They often come back after we leave," a coast guard officer said on condition of anonymity.
The government is now building the first permanent pier on the island to house the three incoming 20-tonne boats.
"Bigger ships would help us battle invaders as they increase our cruising capability," said Liu Kuo-lieh (劉國列), the Dongsha coast guard commander.
As part of its ocean conservation efforts, the government inaugurated the Dongsha Marine National Park in January last year. The park administration is centered on the monitoring and conservation of the local ecology.
Comments will be moderated. Keep comments relevant to the article. Remarks containing abusive and obscene language, personal attacks of any kind or promotion will be removed and the user banned. Final decision will be at the discretion of the Taipei Times.