CROSS-STRAIT FLIGHTS: FEATURE: Welcome, and please don't spit
First came the cries of welcome from officials, the banks of flashing cameras, the thunder of drums and the prancing lion dancers tossing their heads as tourists jostled their way through the arrivals hall.
Then, once they were seated on tour buses, came the brisk reminders. Don't drop litter, don't smoke in public buildings — and, whatever you do, don't spit.
It was a momentous occasion for passengers taking the inaugural weekend cross-strait charter flights on Friday.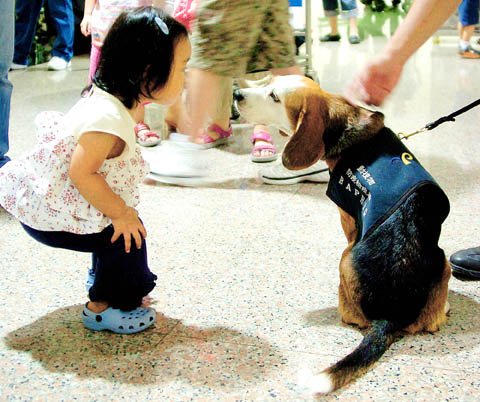 A girl plays with a sniffer dog at Taiwan Taoyuan International Airport yesterday. After a dog was injured on the luggage carousel at Taipei Songshan Airport on Friday, all sniffer dogs in Taoyuan performed their duties as normal yesterday.
PHOTO: CHU PEI-HSIUNG, TAIPEI TIMES
"From today onward, regular commercial flights will replace the rumbling war planes," an airline boss trumpeted.
Many of the passengers on flight HU7987 on Friday posed for commemorative photographs as they set off from Beijing airport.
Young and old on board the four-hour flight had similar feelings.
"We are family. We took different paths but we hope we can get together and develop. It's very important that we are one country," said Xu Yidong, an IT professional.
Many Chinese tourists speak literally when they describe the Taiwanese as family.
Fan Qingju's household was severed by the civil war, when her two brothers fled to Taipei.
The eldest died without seeing them again; the other, now 82, has not visited China since he had a stroke.
"The last time my brother visited me in China was in 2002," the retired high school teacher said. "I've been dreaming about coming to Taiwan for a long time. He's really sick and I felt bad that I couldn't see him and take care of him."
But while Chinese passengers spoke with patriotic fervor and painful longing, the Taiwanese were more pragmatic.
Louis Chen sipped his tea calmly as the plane began to circle the island and other passengers craned towards the window for their first glimpse.
"It's great for us — much easier and cheaper. It will save me about 500 yuan a flight and four or five hours," the actor and director said.
Until now, his regular trips between Beijing and Taipei meant going via Hong Kong or Macau.
Like many who backed the Chinese Nationalist Party (KMT) in this year's presidential elections, he said he was impressed by their pledge to improve ties with Beijing.
"It's more realistic. Taiwan needs the mainland market," he said.
But while Chen acknowledged China had come a long way since he first visited in 1990, he said: "I believe in 'one China' in culture and history, not in government. Taiwan has democracy; in China the government has too much control of economics and politics. Taiwan's people can't trust them, so we can't combine into one country."
Taiwan, once an economic powerhouse, hopes China's explosive growth will infuse it with new life via tourism and increased financial links. But it regards its neighbor with suspicion as well as envy. Beijing has threatened military action if Taipei declares independence.
It was easy to sense great excitement among the Chinese tourists who arrived in Taiwan Friday as they took out their cameras immediately after they stepped outside Taipei Songshan Airport, posing for photos and calling out qiezi. (茄子)
Qiezi is Chinese for "eggplant." When Chinese tourists say qiezi, it is for the same purpose that the term "say cheese" is used by English speakers around the world — to get the subject in a photo to smile, one of the tour group guides explained.
When people pronounce the Chinese zi, the corners of their mouths will lift naturally like they are smiling, the tour guide said.
But, stereotypes about less sophisticated cousins also endure, and were made embarrassingly evident last week when a Tainan City Government's health official apologized after saying that "the places where Chinese tourists have passed through should be disinfected."
While many shops offered special discounts to visitors, one restaurant window bore a "no mainlanders" sign.
Professor Christopher Hughes, a Taiwan expert at the London School of Economics, thought that the boost from tourism had been overestimated.
His initial optimism about the thaw had also waned after conversations with Chinese officials and academics.
"Their way of thinking was: 'Taiwan's come over to our way of thinking; Ma's [President Ma Ying-jeou, 馬英九] going to do what we want him to,'" he said, adding that Beijing had updated its missiles opposite Taiwan. "The question is: What is Taiwan getting out of this?"
Additional reporting by CNA
Comments will be moderated. Keep comments relevant to the article. Remarks containing abusive and obscene language, personal attacks of any kind or promotion will be removed and the user banned. Final decision will be at the discretion of the Taipei Times.