Descendants of ex-KMT troops call for citizenship
STATELESS After demonstrating outside the Legislative Yuan, the protesters moved to the Executive Yuan, where they were invited to talk with low-level officials
More than 400 descendants of former Chinese Nationalist Party (KMT) soldiers who were left behind in Myanmar and Thailand 60 years ago demonstrated yesterday in Taipei, demanding the government grant them citizenship.
Following the KMT's defeat in the Chinese Civil War 60 years ago, tens of thousands of its soldiers moved across the Chinese border into Myanmar and Thailand.
They became trapped there when the KMT regime collapsed in China and fled to Taiwan.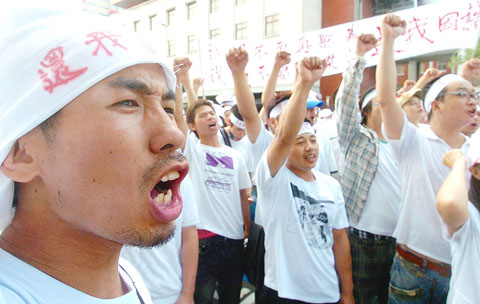 A group of descendants of Chinese Nationalist Party (KMT) army soldiers that withdrew from China to Thailand and Myanmar during the Chinese Civil War demonstrate at the legislature yesterday to demand the government grant them citizenship.
PHOTO: CHANG CHIA-MING, TAIPEI TIMES
When the governments of Myanmar and Thailand refused to grant them residency or citizenship, they became stateless.
"Although they've always been stateless, the government has, in the past, allowed them to come to Taiwan to study and granted them citizenship right away — sometimes within one week or one day," said Liu Hsiao-hua (劉小華), executive director of the Thai-Myanmar Region Chinese Offspring Refugee Service Association.
Since none of them hold Thai or Myanmar citizenship, they had to come to Taiwan with forged or bought passports.
"But the government told them as long as they could get to Taiwan, it didn't care how they did it," Liu said.
The situation changed in May 1999 when the Immigration Act (移民法) was revised and the provision was canceled, Liu said.
However, the Overseas Compatriot Affairs Commission (OCAC) and the Ministry of Education (MOE) did not publicize the new policy and continued to recruit students in those areas.
"I came to Taiwan in 2000 and was told by the MOE that I may get permanent residency in Taiwan after five to seven years," said Wan Chien-chu (王建菊), who came from northern Thailand and graduated from the National Taipei College of Business in February.
"I've received my degree, but without proper documents, I cannot take any national exams for a license and therefore I cannot work," she said.
This was also the case for Huang Chien-pang (黃建邦), who said that his family has "been stateless for three generations."
"After buying a forged passport and paying my tuition, I'm NT$120,000 [US$3,950] in debt," Huang said. "So I had to quit school and began working as a construction worker to make about NT$10,000 to NT$20,000 a month."
Huang added that without proper documents, he can't do anything if he's not paid, and has to pay the full cost when seeing a doctor as he has no health insurance.
However terrible their life in Taiwan is, there is no way back either.
"Since most of them came on forged passports, the Myanmar and Thai governments will not allow them to return — so they're trapped," Liu said.
After demonstrating outside the Legislative Yuan, they moved on to the Executive Yuan, where they were invited inside to talk with two low-level officials.
However, the representatives left the Executive Yuan disappointed.
"They only said that they would study the possibility of revising current laws, but wouldn't give us a concrete timetable," Liu said. "Before any changes in the law, they [the students] will still have to live illegally — meaning that they're breaking the law even for walking on the street."
Comments will be moderated. Keep comments relevant to the article. Remarks containing abusive and obscene language, personal attacks of any kind or promotion will be removed and the user banned. Final decision will be at the discretion of the Taipei Times.