FEATURE: FLO-certified fairtrade shop opens
GO WITH THE FLO Consumers can now buy coffee products from developing countries and cut out the middle-man at Taiwan's first fairtrade coffee shop
The nation's first fair trade shop licensed by the Fairtrade Labeling Organization (FLO) International, headquartered in Germany, opened in Taipei recently, enabling consumers to buy products made in developing countries while helping them benefit through trade.
Oko Green, established and run by Hsu Wen-yen (徐文彥), is a cozy little coffee shop nestled in a quiet lane off of Xuzhou Road, and offers coffee beans — both via the Internet or at his shop — along with freshly made coffee.
There is no price list for Hsu's coffee.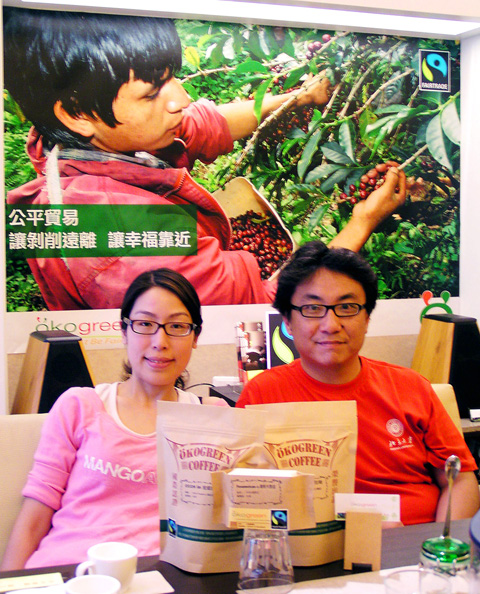 Partners Wan Ju, left, and Hsu Wen-yan sit in their coffee shop in a lane off of Xuzhou Road in Taipei yesterday. Their shop is the first fair trade shop in Taiwan to be licensed by the Germany-headquartered Fairtrade Labeling Organization International.
PHOTO: CNA
"You pay what you consider a reasonable price, " said Hsu, who spent more than a year obtaining an FLO license to operate an FLO fairtrade shop.
Hsu obtained his FLO license in December and four months later opened his shop, where he sells beans from Africa, Latin America and other developing countries at much lower prices than those sold at supermarkets or international food chains.
Oko Green's coffee beans are directly supplied by FLO International at prices that include no middle-man costs.
Hsu maintains a transparent cost-and-spending chart that can be monitored directly by FLO International headquarters on a daily basis.
Under the FLO motto of Trade Not Aid, Hsu follows FLO criteria by donating 1 percent of his business turnover each month to support FLO activities aimed at helping people in poor developing countries, including building power plants, exploring new water sources, developing medical infrastructure and helping people to escape poverty.
Hsu himself donates NT$10 for each cup of coffee sold at his shop to local charity organizations "to help people from my own country to save energy and cut carbon dioxide emissions."
Hsu became aware of fair trade operations several years ago, but knew that Taiwanese had been purchasing FLO-certified products from Japan at "unreasonably high prices" because of a lack of any FLO representation here.
He wanted to establish an FLO-certified shop in Taiwan and started to contact the head office in 2006, only to find that the road before him was "long and winding."
After a lot of difficulty, he received a FLO business license on Dec. 7 last year, issued by the head office after it found that Hsu was a member of Taiwan's Green Party with a strong commitment to environmental protection and wildlife conservation efforts, Hsu said.
Fair trade certification is a product certification system designed to allow people to identify products that meet agreed environmental, labor and development standards.
With oversight by a standard-setting body, FLO International, and a certification body, FLO-CERT, the system involves independent auditing of producers to ensure the agreed standards are met. Companies offering products that meet the fair trade standards may apply for licenses to use the fairtrade certification mark for those products.
The FLO international fair trade certification system covers a growing range of products, including bananas, honey, oranges, cocoa, coffee, cotton, oil seeds, quinoa, rice, spices, sugar, tea and wine, as well as handicraft products.
As of last December, 632 producer organizations in 58 developing countries were FLO-CERT fair-trade-certified.
The fair trade movement is now active in 14 countries and there are 287 fair trade towns in Europe alone. Japan was the first Asian country where FLO fair trade activities have become popular.
Comments will be moderated. Keep comments relevant to the article. Remarks containing abusive and obscene language, personal attacks of any kind or promotion will be removed and the user banned. Final decision will be at the discretion of the Taipei Times.