Tsai outlines her plans to rebuild DPP
The Democratic Progressive Party (DPP) will work to establish itself as a center-left party during its time in opposition, promoting wealth distribution, social justice and a comprehensive welfare system during the next four years, DPP Chairwoman Tsai Ing-wen (蔡英文) said yesterday.
Tsai — talking to members of the Taiwan Foreign Correspondents Club in Taipei — reiterated the message she has been delivering since taking over as party chair last month, saying the next four years were vitally important as the party needs to start again following its defeat in January's legislative and March's presidential elections.
Party unity was the most important aspect of the rebuilding, Tsai said, adding that a recent opinion poll had shown public perception of the DPP's unity had increased dramatically.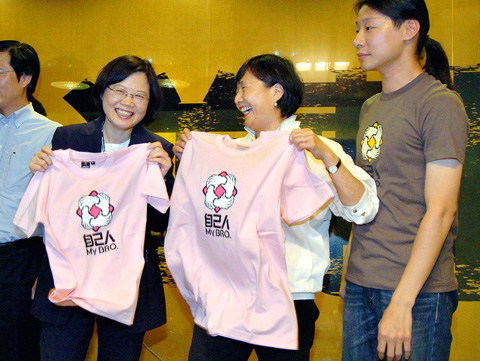 Democratic Progressive Party (DPP) Chairwoman Tsai Ing-wen, left, and former Presidential Office secretary-general Yeh Chu-lan, center, receive T-shirts from Freddy, the lead vocalist of the Taiwanese black metal band Chthonic, at a tea party to mark the establishment of the DPP's youth group yesterday.
PHOTO: LIAO CHEN-HUEI, TAIPEI TIMES
Asked about how the party would reconnect with grassroots voters and compete with the Chinese Nationalist Party's (KMT) traditionally strong local organization networks, Tsai said the DPP would strive to increase direct contact with voters and would use former government officials to extend its grassroots movements.
Tsai said that although the party was strapped for cash, one thing it did have was a lot of time and it would use that time to re-energize its disappointed supporters.
On the issue of sovereignty, Tsai said that while it was important, it would not be the main focus for the party under her tenure. She said the DPP would remain firm but practical on the issue and accused the KMT government of giving away "too much, too fast" in the recent cross-strait talks with China, adding that a balance needed to be obtained.
Quizzed on whether she would lead opposition supporters to the streets if the new government failed to live up to expectations, she said that it was not her "style."
She said that while the DPP wouldn't tell people to protest, it would help organize things if that were the case.
Talking about the lack of stability and continuity in the DPP and the high turnover of party leaders in the past, Tsai said it was important for the DPP to experience a period of stability and emphasized she would not resign if the party performed poorly in next year's local county commissioner and mayoral elections.
Comments will be moderated. Keep comments relevant to the article. Remarks containing abusive and obscene language, personal attacks of any kind or promotion will be removed and the user banned. Final decision will be at the discretion of the Taipei Times.