'Black disease' threatens Green Island's coral reefs
The coral reefs north of Green Island (綠島), a popular vacation spot off the coast of Taitung where political prisoners were once held, are being threatened by sheets of black sponge that endanger marine life and the ecology around the volcanic island, an expert said on Wednesday.
Calling for immediate action to stem the spread of what he called the "black disease," Allen Chen Chen (陳昭倫), an assistant research fellow at Academia Sinica's Biodiversity Research Center, warned that the sponges were growing at a rate of about 50 percent a year.
The coral reefs off Kungkuan (公館), on the island's northeast coast, are the most seriously affected, with 10.91 percent covered by the black sponge, Chen said in a recent study of the Green Island "black plague."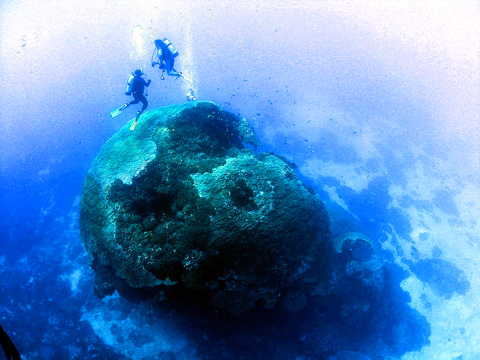 Researchers inspect coral in the coastal waters of Green Island on Saturday.
PHOTO PHOTO COURTESY OF ALLEN CHEN
ORIGIN UNKNOWN
The study found that the black sponges were filled with blue-green algae unlike any other bacteria group seen in local waters, Chen said.
Their origin remained to be determined, he said.
"One thing is certain, however," he said. "The most severe damage has occurred near the most densely populated areas of the island," said Chen, who heads a research team that has been commissioned to investigate the matter.
Apart from Kungkuan, the coral reefs off Chaikou (柴口), in the northern part of the island, Shilang (石朗), in the west, and Tabaisha Bay (大百沙灣), in the southwest, have also been affected, Chen added.
Green Island is surrounded by one of Taiwan's major coral habitats. Chen said he had recorded 168 stone coral strains, six strains of hydrocorals, one organ-pipe coral strain, one blue coral strain and 27 strains of soft corals in the area.
HUMAN THREAT
The diverse coral habitat, however, is under threat from intense human activity, as more than 300,000 tourists visit the island every year.
A significant volume of wastewater is pumped into the sea, Chen said.
To prevent further anthropogenic damage to the coastal waters and the rich and diverse marine ecology supported by the coral reefs, the scientist suggested that a wastewater treatment plant be built on the island.
Comments will be moderated. Keep comments relevant to the article. Remarks containing abusive and obscene language, personal attacks of any kind or promotion will be removed and the user banned. Final decision will be at the discretion of the Taipei Times.