Presidential election 2008: 7 days to go: MAC chair slams 2005 communiques
'TRAMMEL OF FATE' On the anniversary of the passage of China's `Anti-Secession' Law, Chen Ming-tong criticized two former pan-blue leaders for their agreements with China
China's "Anti-Secession" Law en-acted in 2005 unquestionably destroyed the mechanisms for improving cross-strait relations Mainland Affairs Council Chairman Chen Ming-tong (陳明通) said yesterday.
Two communiques signed between Beijing and two pan-blue leaders later that year further im-peded Taiwan's struggle for independence, he said.
The"Anti-Secession" Law, passed in China on March 14, 2005, authorized the Chinese military to take Taiwan via "non-peaceful" means if Taiwan makes moves towards de jure independence.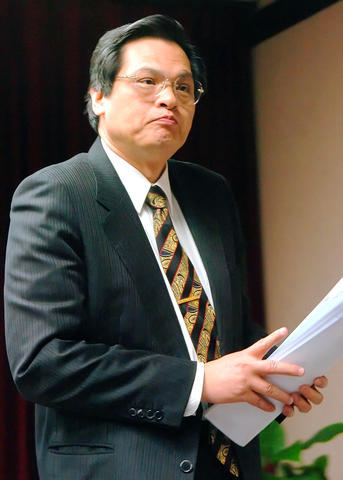 Mainland Affairs Council (MAC) Chairman Chen Ming-tong speaks at a press conference in Taipei yesterday, the third anniversary of China's ''Anti-Secession'' Law. Chen said that the law and the reports on former Chinese Nationalist Party (KMT) chairman Lien Chan and People First Party Chairman James Soong's visits to China have affected the security of the Taiwan Strait.
PHOTO: CHU PEI-HSIUNG, TAIPEI TIMES
Chen yesterday blasted the law, along with the two communiques signed by former Chinese Nationalist Party (KMT) chairman Lien Chan (連戰) and People First Party Chairman James Soong (宋楚瑜), as detrimental to any possibility of ameliorating the cross-strait quagmire because they work against Taiwan independence.
The two communiques, namely the agreements signed between Lien and Chinese President Hu Jin-tao (胡錦濤) in April 2005 and another signed between Hu and Soong later that year, all carried strong pro-unification undertones that gave a thumbs-up to the so called "one-China" principle, Chen said.
"Although the KMT, being the opposition party at the time, had no legal authority to sign any agreements on behalf of the government, the passage of the law and the signing of the communiques has since become the trammel of Taiwan's fate," Chen said.
He condemned the communiques as appendages to the "Anti-Secession" Law that give Beijing more ground to strangle Taiwan's standing in internationally.
The communiques not only failed to recognize "one-China, two interpretations," they also function like a dummy company to help China "smuggle" in its "one-China" principle that would eventually sell out Taiwan's sovereignty, he said.
For example, he said, after signing the communiques, Hu has on numerous occasions cited them as justification to claim Taiwan as part of the "motherland."
Chen also chastised Beijing's "two-faced approach" of giving Taiwanese businessmen economic sweeteners while increasing the number of missiles pointing at Taiwan.
MAC Vice-chairman Liu Teh-hsun (劉德勳) pointed out Article five of the law -- often overlooked by critics -- which stipulates that Taiwan would only be allowed to exist under a "high degree of autonomy after reunification."
"The vision of the future should be better than the current reality. How is a `high-degree of autonomy' a better offer than what Taiwan has right now?" he said, adding that if China was sincere, it should offer Taiwan something lucrative enough for it to be willing to change its status.
Meanwhile, in related news, President Chen Shui-bian (陳水扁) warned in an interview published yesterday that China would never stop intimidating and harassing Taiwan regardless of who wins the presidential election next weekend.
Chen said China would have already "taken" Taiwan if he had not upheld its sovereignty during the past eight years.
"You think that when a certain person assumes power, a certain party comes into power, China will change its ambition, intention and preparations to annex Taiwan?" Chen told the Financial Times.
ADDITIONAL REPORTING BY AFP
Comments will be moderated. Keep comments relevant to the article. Remarks containing abusive and obscene language, personal attacks of any kind or promotion will be removed and the user banned. Final decision will be at the discretion of the Taipei Times.