Taipei City unveils list of events for New Year's Eve
This year's Taipei City New Year celebrations will feature a series of events starting one day before New Year's Eve, including a large-scale carnival-like parade, a concert and fireworks, the city government said yesterday.
A parade with 600 performers on carnival floats, wearing costumes and doing motorcycle stunts, will traverse the streets of Xinyi District near Taipei City Hall between 2pm and 5pm on Dec. 30, the city government said.
All the floats that took part in the parade will then be displayed at Sun Yat-sen Memorial Hall through 6am on Jan. 1, it said.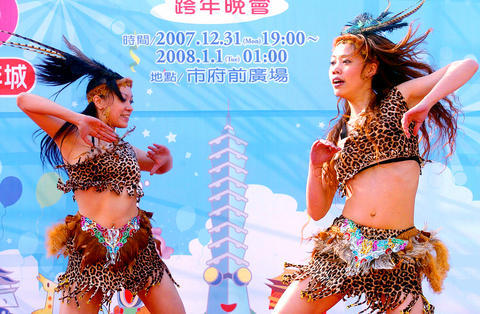 Dancers perform during a press conference yesterday organized by the Taipei City Government to promote the city's New Year's Eve celebrations, which will be held at the plaza in front of Taipei City Hall.
PHOTO: CHIEN JUNG-FONG, TAIPEI TIMES
The parade will be followed by an overnight New Year concert in front of Taipei City Hall starting at 7pm on Dec. 31, the city government said.
To deal with the expected massive crowds, the city government proposed two-step traffic controls yesterday.
Vehicles will not be allowed to enter the area west of Songren Road, north of Xinyi Road, east of Keelung Road and Yixian Road and south of Zhongxiao E Road between 7pm and 10pm on Dec. 31.
Between 10pm on Dec. 31 and 3am on Jan. 1, the restricted area will expand to Songqin Road, Songde Road and Songren Road, south of Lane No. 168 of Songde Road and Zhongxiao E Road to Xinyi Road and Zhuangjing Road and west to Guangfu S Road.
A total of 100,000 free maps providing details about the celebrations will be available at 7-11 convenience stores in Taipei City, Taipei County and Keelung, the city government said.
At a press conference, Taipei Mayor Hau Lung-bin (郝龍斌) called on people to remember to clean up after the concert.
"Last year, after everyone went home, the city's Department of Environmental Protection had to mobilize nearly 400 employees to spend the whole night cleaning up 21 tonnes of garbage [left over by concert goers]," Hau said.
Meanwhile, Frank Wang (王彥麒), communication manager at Taipei 101, told reporters that Taipei 101 had not finalized what words it would display during its New Year fireworks.
The shopping center said last Friday it would not display words promoting the nation's UN bid.
Wang said yesterday that Taipei 101 could keep the choice of words secret to "surprise" the public.
He said that this year's fireworks show would last longer than 188 seconds.
Comments will be moderated. Keep comments relevant to the article. Remarks containing abusive and obscene language, personal attacks of any kind or promotion will be removed and the user banned. Final decision will be at the discretion of the Taipei Times.