Dumpling baron helps the needy
GIVING BACK Coming from a poor family himself, Chen Yi-tsai turned a modest dumpling stall into a successful enterprise. He now donates 25,000 dumplings a week
Chen Yi-tsai (陳義在) knows what it's like to grow up in a poor household. But now that he is a successful businessman with a thriving business making dumplings, he is giving back to the community by donating dumplings to children in need.
Over the past three years, Chen has donated about 3.5 million dumplings -- worth approximately NT$10 million (US$309,000) -- to children at the Children Care Center in Chunghua County.
Chen, 58, grew up in a household so poor he started weaving baskets at a factory at the age of 11 and never received education beyond primary school.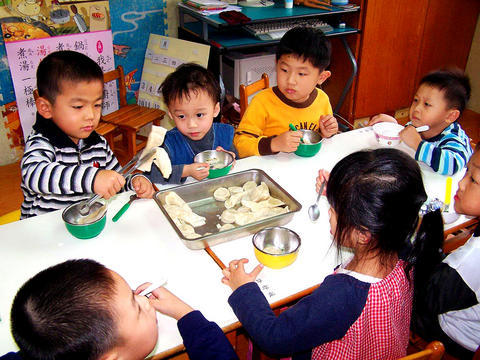 Children at a care center in Changhua County eat dumplings donated by local dumpling vendor Chen Yi-tsai on Saturday.
PHOTO: TANG SHIH-MING, TAIPEI TIMES
After completing his military service, Chen met a friend who introduced him to the dumpling business. Starting from a stall in a traditional market, Chen built his business by improving production and marketing and building a solid reputation.
After a while, Chen found himself in a position where he could give back to society. Many years ago, he started donating dumplings to temples, senior groups and poor families.
Then, three years ago and with the encouragement of Sun Chiao-jung (孫皎容), the director of adoption at the care center, Lin began a more systematic and sizable donation project targeting impoverished children.
Ever since, Chen has donated 25,000 pork or chive dumplings every week to children at the center.
This represents one-fifth of his factory's output.
Each dumpling costs NT$0.65 to produce and is sold to wholesalers for NT$0.75 per dumpling. The market price for each dumpling, meanwhile, is NT$4.
Even in the face of rising commodity prices, Chen continues to donate the same number of dumplings every week.
"If I have the ability, I must help those in need," Chen said. "It makes me happy to see children enjoying the dumplings. It fulfills my wish to help others."
Comments will be moderated. Keep comments relevant to the article. Remarks containing abusive and obscene language, personal attacks of any kind or promotion will be removed and the user banned. Final decision will be at the discretion of the Taipei Times.