Hsieh says Ma could learn from him
POINTING FINGERS Ma sought to score points with an ad that showed Hsieh and his running mate exchanging barbs, but Hsieh said Ma should get his own house in order
Democratic Progressive Party (DPP) presidential candidate Frank Hsieh (謝長廷) yesterday struck back at Chinese Nationalist Party (KMT) election rival Ma Ying-jeou (馬英九), who had suggested that there was friction between Hsieh and his running mate, saying that Ma could learn from his example.
"It seems Ma likes to build his success on other people's bickering," Hsieh said. "He is like the Pili puppet character Hei Bai Lang Chun (whose face is half black and half white), whose signature phrase is: Other people's failure is my happiness."
Hsieh said Ma should rather have encouraged him and running mate Su Tseng-chang (蘇貞昌) to make peace and cooperate.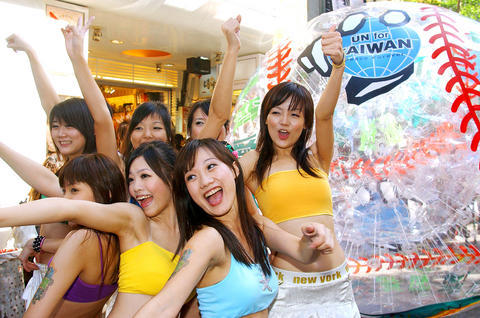 Models promote the government's proposed referendum on UN membership under the name ``Taiwan'' in Ximending, Taipei, yesterday.
PHOTO: PATRICK LIN, AFP
"Ma and Legislative Speaker Wang Jin-pyng (王金平) should take us as a model," he said.
Hsieh, addressing a crowd in Taipei City's Ximending (西門町) district, was referring to the fact that Wang had declined to serve as Ma's running mate after being defeated in the KMT's presidential primary.
Hsieh and Su were attending a DPP event dubbed "national signature day" to promote the government's proposed referendum on joining the UN under the name "Taiwan." The proposal is in the second petition phase and at least 800,000 signatures must be collected for the referendum to take place in tandem with the presidential election in March. The government says that more than 1.66 million signatures have already been collected and it hopes to reach its goal of 2 million signatures by the end of the month.
While Ma's camp has released a TV commercial featuring barbs traded by Hsieh and Su during the DPP's presidential primary, the DPP candidates on Saturday night criticized Ma for being politically incompetent, especially during his term as mayor of Taipei.
Hsieh told the campaign rally that Taiwan needs UN membership for the sake of national identity and the country's status in the international community.
The economy is not the only priority, Hsieh said, listing a better environment and happiness as other goals.
The rally at Sinjhuang Stadium marked the first time that Hsieh and Su have stumped together in Taipei County, where Su was twice elected commissioner.
In response, Ma said yesterday that Hsieh and Su were in no position to criticize him because the livelihoods of Taiwanese had deteriorated during their respective terms as premier.
Hsieh retorted that no matter how fast a horse runs, it must follow the orders of its master.
Translated literally, Ma's surname means "horse."
At a separate event yesterday morning, Su said Ma did not set a good example as a leader and did not know the true meaning of unity because he had relentlessly smeared Wang's reputation during his party's chairmanship race and presidential primary.
Hsieh's camp also questioned the source of Ma's funding, alleging that Ma has so far spent NT$193 million (US$6 million) on his campaign.
They asked Ma to offer a clear account on whether he obtained the funding from the sale of the KMT's stolen assets.
Comments will be moderated. Keep comments relevant to the article. Remarks containing abusive and obscene language, personal attacks of any kind or promotion will be removed and the user banned. Final decision will be at the discretion of the Taipei Times.