FEATURE: Hiking promoted for the disabled
EXPERIENCE Participants on a recent hike were given history and ecology lessons at Jiaobanshan, once a camphor production area during the Japanese era
The wilderness is the spiritual home of human beings, and thus disabilities should not obstruct one's ability to fully enjoy it, an ecologist said while accompanying people with disabilities on a hiking trip last week.
To launch a campaign to promote hiking, the Forestry Bureau and the Taiwan Environmental Information Association (TEIA) organized a hiking trip last Monday and Tuesday and invited five mentally and physically challenged people to come along.
"It's important for human beings to interact with nature, and we'd like to encourage more people to do so," said Chien Shu-hui (簡淑慧), a spokeswoman for the association.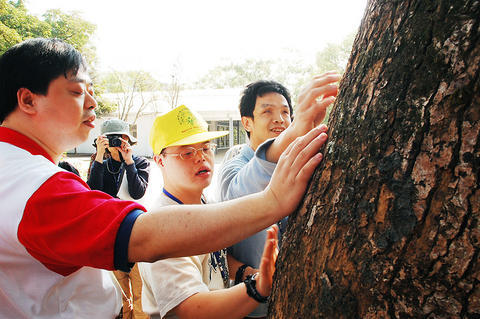 Hsu Chia-liang, left, Michael Fan, center, and Huang Chan-huang learn to identify a camphor tree by touching its trunk at Jiaobanshan Park.
PHOTO COURTESY OF HU MUH-CHYNG
"We invited five mentally and physically challenged people on the trip and they all had fun," Chien said.
"This shows that hiking is not just an activity for the experienced," Chien said.
To enhance the experience, an ecologist, a photographer, a writer, an artist and a historian also joined the trip.
The travelers began their two-day trek at Jiaobanshan Park (角板山公園) at over 600m above sea level.
Jiaobanshan was once an important camphor production area during the Japanese colonial era, and thus is dotted with historical sites in addition to its natural beauty.
There, the participants were given history and ecology lessons.
"The house behind me is the camphor collection office constructed by the Japanese during the colonial period," said Wu Yuan-ho (伍元和), a historian who specializes in historic hiking trials, while pointing to a partially ruined wooden house surrounded by camphor trees.
HISTORY
After a brief description of the local history, Wu Hai-shih (吳海獅), an ecologist, taught Hsu Chia-liang (徐嘉良) and Huang Tsan-huang (黃燦煌) -- both visually impaired -- how to identify a camphor tree without being able to see it.
"Pick a leaf, and smell if there's a camphor odor," Wu told the two. "And touch the leaf carefully -- you'll feel three major veins on the leaf."
Afterwards, Wu instructed Hsu and Huang to hug the trunk.
"Smell it -- there should be a camphor odor on the trunk as well. Can you feel that the trunk skin is thick and wrinkled?" Wu said.
Hsu and Huang both smiled.
LALA MOUNTAIN
The Lala Mountain (拉拉山) trail at 1500m above sea level was the second stop on the trip.
There, Huang Shu-mei (黃淑梅), a woman with disability in one foot, walked on a mountain trial for the first time.
"I've seen the [Lala Mountain] trail on TV, but never imagined I could actually walk on it myself," Huang Shu-mei said.
"It's wonderful to be able to feel the freshness of the air, to see the scenery with my own eyes, to watch the clouds forming and to touch the plants with my own hands," Huang Shu-mei said.
To her surprise, Huang Shu-mei said that her disability did not actually obstruct her from enjoying herself.
In addition, she has discovered a new hobby.
"I've never drawn before, but I've decided to sign up for drawing lessons at my community college," she said.
Hsu Wei-pin (徐偉斌), an artist that accompanied the travelers, had inspired her new interest, Huang Shu-mei said.
SKETCH BOOK
While resting on the Lala Mountain trail, Huang Shu-mei took out a sketch book and pen to draw the scenery. Hsu Wei-pin taught her many drawing skills.
Michael Fan (范晉家), a swimmer with Down's Syndrome, also found new hobbies.
"I've never been a hiker, because I was simply not interested," Fan said. "But after this trip, I think I'll go mountain hiking more often."
PHOTOGRAPHY
Luo Sang (洛桑), a photographer, acted as a photography mentor for Fan during the trip.
"Luo Sang is a funny guy. He told me funny stories and taught me how to take good pictures," Fan said.
"The wilderness is the spiritual home of human beings -- all can seek spiritual shelter in the wilderness, and be inspired by it," Wu said.
Chien said that she welcomed more people to join the TEIA's hiking events.
Anyone interested can find more information as well as recommend hiking trials at trail.e-info.org.tw.
Comments will be moderated. Keep comments relevant to the article. Remarks containing abusive and obscene language, personal attacks of any kind or promotion will be removed and the user banned. Final decision will be at the discretion of the Taipei Times.