New Taiwanese dictionary unveiled
LABOR OF LOVE Liao Hsiu-kuang, 88, taught Japanese and Chinese, and now after 56 years of study he has finished a manuscript with its own phonetic system
Liao Hsiu-kuang (廖修廣) is not a university Chinese professor, nor is he an official Taiwanese language researcher. But after 56 years of self study, this year he has finally completed a 3,308-page manuscript for a Taiwanese dictionary complete with hundreds of thousands of entries and his own modified phonetic transcription system.
"I have only one heartfelt wish, and that is to hand down Taiwanese language culture to later generations intact" says 88-year-old Liao.
Liao taught Japanese during the colonial period, and later taught Chinese under Chinese Nationalist Party (KMT) rule.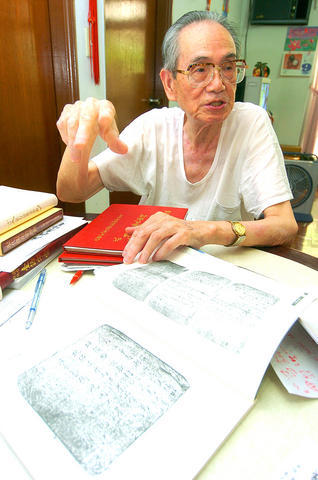 Liao Hsiu-kuang, a researcher of Hakka culture, explains some of the historical documents related to his latest research of early Hakka settlements in Taipei. Thanks in part to Liao's research, it is now known that parts of southern Taipei City, including Gongguan, were first farmed and settled by Hakka people.
PHOTO: WANG MIN-WEI, TAIPEI TIMES
During the White Terror he was imprisoned on Green Island and in a military prison in Taipei for seven years. During his sixth year, a prisoner in a neighboring cell gave him several Taiwanese language dictionaries, which sparked his interest in researching the language.
Although Taiwanese is his native language, Liao has used his fluent Japanese and Mandarin to contribute to and edit other Taiwanese dictionaries published in Japanese. In his work he has insisted on using the word "Taiwanese" rather than "Hoklo," a practice which has been adopted in other Taiwanese dictionaries in other countries.
Liao says that most Taiwanese dictionaries on the market today use a pinyin-like romanization system.
However he believes that since Korean, Japanese and Arabic have their own indigenous phonetic transcription systems, Taiwanese should have its own as well. Therefore in his dictionary Liao uses his own hybrid system of Zhuyin transcription (注音符號, or bopomofo), while using other systems as secondary aids.
Liao says that his unfulfilled desire is to have the draft published. He said he is willing to give it to a non-profit publishing house because he did not write it for profit or fame, but to use his remaining years to do his utmost to contribute to Taiwan and Taiwanese language culture.
Comments will be moderated. Keep comments relevant to the article. Remarks containing abusive and obscene language, personal attacks of any kind or promotion will be removed and the user banned. Final decision will be at the discretion of the Taipei Times.