FEATURE: Taipei's graffiti artists strive for greater acceptance
For graffiti artists Ano and Bounce, there are two major challenges involved in producing graffiti in Taipei: finding the right location and avoiding detection long enough to finish the job.
A highly visible spot, such as a wall next to an MRT station, is a perfect location for street art. But in such a busy place, it is hard to spend several hours working on a piece without attracting the attention of the police.
"We like to express ourselves and communicate through graffiti, but the city punishes us for presenting our works in an unconventional location and manner," Ano, who has been a graffiti artist for six years and whose works can be found on many street corners in Taipei, told the Taipei Times.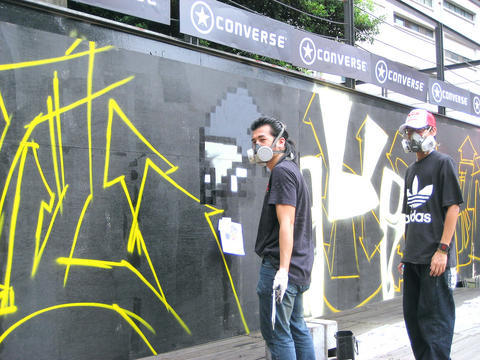 Graffiti artists Ano, left, and Bounce work on graffiti pieces during a contest on Saturday at Ximending's Cinema Park.
PHOTO COURTESY OF TAIPEI CITY'S CULTURAL AFFAIRS DEPARTMENT
As a relatively young art form in Taiwan, graffiti is often dismissed as vandalism. Although the Taipei City Government softened its stance somewhat in 2005, when it made three of the retaining walls at Dachia Ying Feng Riverside available to graffiti artists, most artists still work in out-of-the-way places to avoid the police.
Things took a turn for the worse last year, when the city's Department of Environmental Protection established an around-the-clock hotline and cash rewards for those who report graffiti.
Graffiti artists face fines of between NT$1,200 and NT$6,000 for violating Article 27 of the Waste Disposal Act (廢棄物清理法), which prohibits "polluting" of the ground, water, gutters, walls, beams or pillars, utility poles, trees, roadways, bridges and other structures.
This lack of freedom frustrates Bounce and Ano, who declined to give their real names.
"We are not bad kids and we take graffiti as an art form very seriously. We don't write four-letter words or paint horrible images," Bounce said.
The duo try to avoid stereotypical "dirty," gloomy or creepy grafitti in favor of "cute" pieces with bright, warm colors and positive messages.
Bounce centers his pieces around a blind rabbit that loves music -- the character from which he takes his nickname.
Ano, meanwhile, creates graffiti mosaics.
"We do graffiti to make the city more beautiful and lively," Bounce said.
In a rare gesture of reconciliation, the city's Department of Cultural Affairs announced on Saturday that the fences around major public construction sites would be made available to graffiti artists.
"We will promote graffiti starting with the public sector, and then later in the private sector too. It's our goal to beautify the city with graffiti," department head Lee Yong-ping (李永萍) said.
The department said it was also cooperating with the city's Water Conservancy Agency to open more of the walls at municipal riverside parks to graffiti artists, while working with the Taiwan Youth Rights and Welfare Advocacy Alliance to hold graffiti contests and festivals to promote the street art.
Bounce and Ano welcomed the news, but urged the city government to provide more locations closer to downtown and with convenient transportation.
"The spaces at riverside parks are so remote that I don't even know where those walls are," Ano said.
"People think graffiti artists like to paint on dark and abandoned walls or buildings, but the truth is we are afraid of those places. We'd love to do our art in a bright and safe environment," he said.
Having spent years sneaking around the city in search of the perfect canvas, Bounce and Ano hope that they will soon be able to share their creativity more openly.
Comments will be moderated. Keep comments relevant to the article. Remarks containing abusive and obscene language, personal attacks of any kind or promotion will be removed and the user banned. Final decision will be at the discretion of the Taipei Times.