Mysterious killer terrifies residents
WHO ATE MY GOAT? Police are searching for a strange creature that killed several goats in Linkou Township and made some residents reluctant to venture outside
A group launched a search yesterday in a mountainous area in Linkou Township (林口), Taipei County, for an unidentified creature that has been killing domestic goats in the area.
County police received a report the previous day from a goat farmer in Linkou, who said that earlier that day that 10 of his 100 goats had been mauled to death by "some large feline."
An Indonesian worker who told police she had witnessed the attack said she had just entered a sheep pen to feed the animals when "a big animal" roared at her, whereupon she fell down the stairs.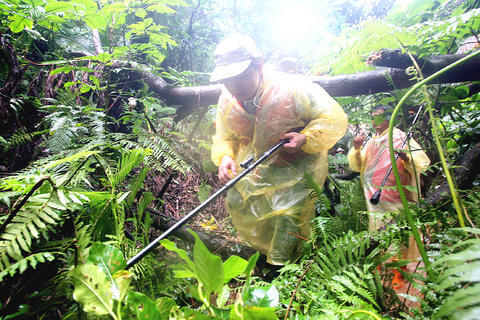 Forest Rangers and Taipei City Zoo personnel comb through a forest in the mountains near Rueiping Village, Linkou Township, yesterday after an animal described by a goat farmer as ''some large feline'' killed ten of his sheep.
PHOTO: WANG YI-SUNG, TAIPEI TIMES
The worker fled the scene and immediately awakened the farm owner, Huang Jung-ko (洪榮科) and told him what she had seen.
Huang told reporters his employee said the creature was definitely a big tiger and that she could not believe Taiwan still had wild tigers.
Huang checked the pen and found that eight sheep had been slaughtered. Two others had been devoured, with only parts of their skeletons and some organs left.
This was a horrible bloodbath, Huang said.
Animal experts from Taipei Zoo and the Taipei County Government's Bureau of Agriculture examined the site on Friday and found a clear animal footprint.
Chang Chih-hua (張志華), chief veterinarian at Taipei Zoo's Animal Medical Center, told reporters yesterday that "the footprint belongs to a canine, not a feline, which means that the animal that attacked the sheep is likely a big dog."
Chang said that based on the tooth marks found on the carcasses, the animal has a wide mouth.
Referring to the witness' claim that the creature had roared at her, Chang said that tigers and leopards roar at human beings when they encounter them.
Taipei County Commissioner Chou Hsi-wei (周錫瑋) yesterday morning led police officers and animal experts on a search for the animal in the mountainous area around the farm.
County officials said they hoped to catch the animal alive and were equipped with a cage, tranquillizer guns, blowpipes and flashlights.
At press time, the creature was still at large.
Residents nearby, meanwhile, were terrified.
A resident surnamed Huang told reporters the authorities had to find the animal or they would not venture outside their houses.
ADDITIONAL REPORTING BY CNA
Comments will be moderated. Keep comments relevant to the article. Remarks containing abusive and obscene language, personal attacks of any kind or promotion will be removed and the user banned. Final decision will be at the discretion of the Taipei Times.