GIO prohibits work from home after hacker attack
Government Information Office (GIO) staffers have been prohibited from bringing work home after an incident in which hackers exposed restricted information, a GIO official said yesterday.
The restricted information -- including data on foreign government officials and journalists working for international news outlets who are viewed as friendly by the GIO -- was accessible on the Internet following a recent hacker attack, said Denq Yea-wen (鄧雅文), director in charge of government ethics at the GIO.
"An official who used to handle official business at home after office hours was not aware that his family computer had been infected with a Trojan virus," he said, adding that regulations had since been put into effect to bar GIO staffers from bringing work home.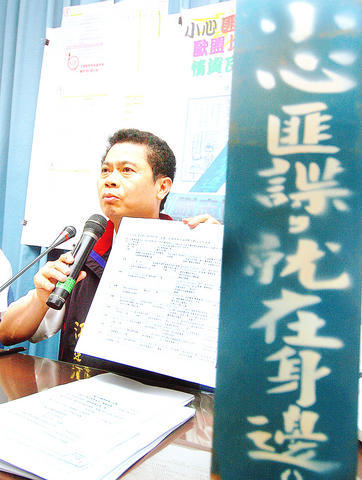 Chinese Nationalist Party (KMT) Legislator Chiang Lien-fu criticizes the Government Information Office yesterday, saying its information security system was vulnerable to hacking by China.
PHOTO: FANG PIN-CHAO, TAIPEI TIMES
Denq made the remarks at a press conference at the legislature held by Chinese Nationalist Party (KMT) Legislator Chiang Lien-fu (江連福).
Chiang criticized the GIO's information security vulnerability, saying that many vital government documents have been circulated in China.
Chiang said that a China-based Taiwanese businessman had sent him a package of documents including communications between the GIO and the government's overseas office in Belgium, the government's contact list of foreign government officials and international reporters, and the government's analysis of international reporters' attitudes toward Taiwan.
"Anyone can easily download those documents from the Internet," Chiang said.
Denq said that the GIO was informed by the Bureau of Investigation in March about the security breach.
Investigators have been trying to locate the hacker since then, he said.
The bureau has yet to find the hacker, who posted the information on the Internet via file-sharing systems, he said, adding that the information is still available online.
Nevertheless, the leak was not considered "serious" as many of the documents were related to government affairs from 2005 and last year.
"But we do feel concerned that the disclosure might put foreign government officials and reporters in an awkward situation when they are dealing with China," Denq said.
Comments will be moderated. Keep comments relevant to the article. Remarks containing abusive and obscene language, personal attacks of any kind or promotion will be removed and the user banned. Final decision will be at the discretion of the Taipei Times.