Hundreds climb world's tallest building for charity
More than 700 expatriates, as well as local residents, climbed the world's tallest building, Taipei 101, for the second year yesterday to raise funds for the 2007 Taiwan Youni International Climbathon for Charity.
Although tired, most climbers enjoyed the experience.
"[I'm] exhausted," said Marcus Bauder of the Shangri-La Hotel Taipei team when asked how he felt after climbing the 91 floors.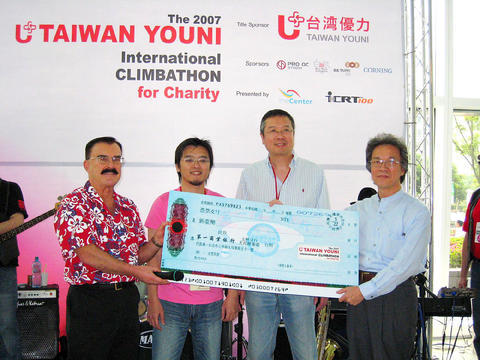 Community Services Center board of directors chairman Fred Voigtmann, far left, and Mike Lee, ICRT's financial officer, second right, present a check to Wu Chong-hsien, far right, a board member of the Garden of Hope Foundation, at the end of the 2007 Taiwan Youni International Climbathon for Charity at Taipei 101 yesterday.
PHOTO COURTESY OF THE GARDEN OF HOPE FOUNDATION
"But I'm feeling good right now ? It's fun, and it's for charity," he said.
There were also climbers who came well prepared.
"I went through an intense training regime during the past two weeks, climbing up to my third-floor office, I'm well-prepared," said Brandon Williams, an American who has been working in Taiwan for two-and-a-half years.
Some participants also expressed the hope that events such as this could increase understanding between Taiwanese and the expatriate community.
"It's really great to see both the locals and the foreign community participating in something like this together," said Elias Ek, a Swede who started his own business in Taipei five years ago. "Most of the time, the foreign community is just not visible."
Altogether, 750 climbers raised NT$1.8 million (US$54,100) for charities, said Mary Chua, director of the Community Services Center (CSC), one of the event organizers, along with ICRT, Taiwan's English-language radio station.
The Garden of Hope Foundation is one of the main beneficiaries.
Many firms, including the Taipei Times, also helped sponsor and organize teams for the event.
Comments will be moderated. Keep comments relevant to the article. Remarks containing abusive and obscene language, personal attacks of any kind or promotion will be removed and the user banned. Final decision will be at the discretion of the Taipei Times.