Interview: Taiwan needs to find its message to gain ground
NO VISION Perceptions need to be shaped with tangible actions rather than slogans, said a former US deputy assistant for national security affairs
A growing number of people in Washington are articulating a pro-China stance on cross-strait relations few people in Taiwan seem to comprehend.
Stephen Yates, former deputy assistant for national security affairs to US Vice President Dick Cheney and now president of DC Asia Advisory, a Washington-based consultancy, said that more must be done if Taiwan wants to be taken seriously.
"China has more advocates and friends on its side in Washington," said Yates, who spoke to the Taipei Times last week during a visit to Taiwan.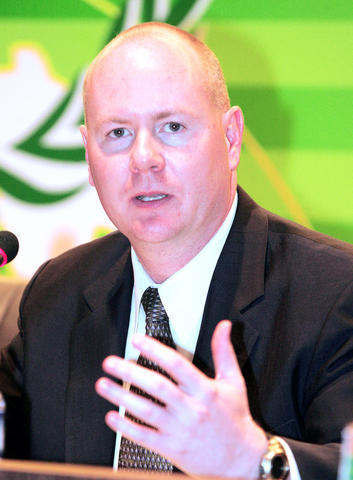 Stephen Yates, a former adviser on national security to US Vice President Dick Cheney, speaks during a seminar on Taiwan's democratization organized by the Democratic Progressive Oarty in Taipei on April 15.
PHOTO: CNA
"The circumstance is not favorable to Taiwan," he said.
Yates said China's growing success in Washington was not the result of hiring lobbyists or devising public relations campaigns but of cultivating constituencies in the US that support policies consistent with Beijing's interests.
Pressure is also being placed on Taiwan because strategists are finding it increasingly difficult to answer the question "Why does Taiwan matter?" when the answer to "Why does China matter?" has so much force. The economic opportunities with which China is attracting the world are almost irresistible.
"But Taiwan does not have to accept defeat; it can come up with `what is the alternative' and tell the world `here is why Taiwan matters,'" Yates said.
What Taiwan could do, he said, is make people in Washington feel uncomfortable for being too supportive of a government with a bad record on human rights.
"The civil rights issue is one of the reasons that there might be a sort of `inconvenient truth' facing those who back China," he said, suggesting Taiwan promote its achievements in the protection of civil rights, which could give other countries reason to support it.
"Taiwan's story on progress and civil rights has not really been told in an organized fashion to the civil rights community in the US, [the same community] that was actively engaged with Taiwan's dangwai [黨外, opposition] movement. But between then and now, things have changed in Taiwan; it's not the same connection," he said.
Environmentalism is another area in which Taiwan could offer a model to be explored, Yates said. "Taiwan should make them [US constituents] feel that it sets an interesting example here in Taiwan, and make them think, `They can do it and why can't we.'"
Creating connections and cultivating constituencies is the key, Yates said, suggesting that an "education lottery" for 2,000 free trips annually for US college students would allow young Americans to see things about Taiwan that would "let them have positive personal experiences and feel a sort of connection with Taiwan, something that was a deliberate effort to pluck people up and leave a positive impression and get them to hook here."
"If it is worth spending billions of dollars on national defense, I think it's worth spending maybe several millions of dollars on some of these `soft power' ideas," he said.
But Yates said Taiwanese politicians who wallow in confrontation obstruct the country's progress and make it difficult to find common ground for those who would support such projects.
A lack of long-term perspective on what the future could or should hold is another common failing among Taiwanese politicians and independence activists, he said, adding that protests against the "one China" policy were the things he had heard most frequently from Taiwan in recent years.
"I think people want to do away with the `one China' policy because it's a symbol of unfairness and it is used as a tool to try to keep Taiwan in a box, and there is truth in that," he said. "But out of the box to do what? There's the thinking that goes one step or maybe two steps, but I did not see [people thinking] very much further beyond that."
Yates said many people sympathize with Taiwan's frustration at its confinement but that no meaningful sympathy would present itself if Taiwanese cannot communicate what they are trying to achieve.
"Taiwan feels that some US treatment is unfair. But what is Taiwan's counter-proposal? What are you going to do [to become] a normal nation? What do you want to change? What are you going to do for me? I'm just not aware of anyone feeling out that side of the bargain," he said.
Many critics and strategists have been warning that China could overwhelm Taiwan with its rising influence if Taiwan squanders valuable time on unsubstantial issues that are unhelpful in making the world connect with it, Yates said.
In comparison, the lack of direct communication between Taipei and Washington is a minor problem for Taiwan-US relations, he said, adding that there was no sign that the US government would undertake a review of the "one China" policy anytime soon.
Yates favors establishing hotlines and direct communications between Taipei and Washington. Yates added that he had always opposed the "one China" policy and revealed that he had had a Chinese visa revoked for two years for doing so.
But while the "one China" policy uses English words, he said, the expression is not really substantial, nor is the attention devoted to the debate.
"How many Chinas do you think there are? And what does it tell you about what American strategy or policy is?" he said. "It is defined only with further vagary."
The "one China" policy consists of three communiques signed between China and the US as well as the Taiwan Relations Act, in which the US states its responsibilities toward Taiwan. Yates described the Shanghai communique as both a Chinese diatribe against the US and a US commitment to move toward reconciliation.
But Yates said he saw "no opening at all in any party, in any constituency, on Capitol Hill or in the presidential process, for a review of the `one China' policy" and that none of the US presidential candidates will take on a bold China policy.
For that reason, slogans should not be dwelt on. Yates said he realized there are things that are meaningful and important to Taiwan, but if "you want to change the `one China' policy, don't talk about the `one China' policy."
"Talk about what would be gained with changes that sort of stake out territory, that move in the direction that at some point by definition is change," he said. "If you are talking about sovereignty, if you are talking about changing `one China,' it just sort of kills the initiative in the end."
"You've got a lot of work to convince them of that stuff," he said, referring to the 300 million Americans.
This task would not be made any easier if the Taiwanese administration prefers to play word games.
On the "four wants" desire for Taiwanese independence and a change in the nation's official name proposed by President Chen Shui-bian (陳水扁), Yates said that "people in Washington didn't think it was funny."
"It was a little too cute in mirroring `four noes and one will not' and making a play on that framework, when from the American official point of view, they continue to express repeated concern that the `four noes, one will not' will remain in force," he said. "Sometimes when you are dealing with sensitive subjects, humor and shifting the topics around make everyone feel more comfortable and all of that. In this case, I don't think it did."
Getting the US to support Taiwan's UN membership was a "distant goal" at this point, Yates said, because US policy is to firmly "not support" Taiwan's membership in an organization that requires statehood.
It might be helpful to have both sides of the Taiwan Strait in the UN and resolving their differences around the negotiating table, but Yates said it would not change the fundamental difficulty in the relationship between Taiwan and China: a lack of trust and vigorous efforts by China to alter the "status quo" in the Taiwan Strait.
"In terms of having equal footing, in terms of mutual respect and all of that, I think all of us are for that," he said. "I have some sympathy for the desire to have equal footing in dialogue and negotiations, but I think it's a big challenge."
Comments will be moderated. Keep comments relevant to the article. Remarks containing abusive and obscene language, personal attacks of any kind or promotion will be removed and the user banned. Final decision will be at the discretion of the Taipei Times.