Defense ministry grilled over new IQ regulation
DUMB? Lawmakers contended that the new IQ policy would create more social problems as military personnel who failed the test would be forced to leave their jobs
Lawmakers across party lines yesterday lashed out at a new regulation requiring military personnel to take intelligence quotient (IQ) tests that require them to leave the service if they score below 100.
Vice Minister of National Defense Chu Kai-sheng (朱凱生) was briefing lawmakers on the latest developments in the military's efforts to maintain Internet security at the legislature's National Defense Committee yesterday. However, lawmakers were more interested in the new IQ regulation, which they claimed could put more than 3,000 military personnel out of work.
Both pan-green and pan-blue lawmakers said they had received a lot of petitions from military personnel regarding the new IQ regulation. They said the new regulation would create social problems because more people would be disqualified from service and forced to leave their jobs.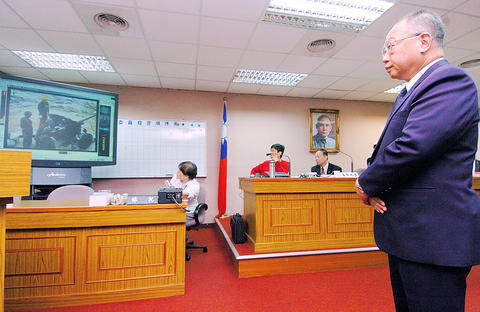 Vice Minister of National Defense Chu Kai-sheng stands during a meeting at the legislature's National Defense Committee. Chu faced tough questioning over the ministry's new regulation requiring intelligence tests for all military personnel.
PHOTO: CHU PEI-HSIUNG, TAIPEI TIMES
Chu told lawmakers that the defense ministry would review the new policy.
"I assure you that Minister [of National Defense] Lee Jye (李傑) will hear your voices today," Chu said.
The Ministry of National Defense introduced the IQ regulation last November. Test results showed that more than 80 percent of Navy and Military Police personnel had IQ scores of above 100. As for those serving in the Air Force and Logistics related command headquarters, a little more than 60 percent of the total scored above 100. And for those in the Army, approximately 40 percent scored well enough to remain in service.
Those who failed the intelligence test will have to leave the military on July 1.
"We decided to tighten the measure governing soldiers' IQ because we wanted to raise the level of personnel employed in the military," ministry spokesman Rear Admiral Wu Chi-fang (吳季方) said.
Responding to a complaint by lawmakers that the military was actually trying to retire more personnel by coming up with such a regulation, Chu said: "That's impossible," adding that the idea never crossed their minds.
Chinese Nationalist Party (KMT) Legislator Shuai Hua-ming (帥化民) said despite the ministry's claims that the regulation was an effort to adopt stricter standards, the regulation, per se, was "ridiculous."
"I have seen so many students, who had done well in the college entrance exams and been offered admissions to national universities, fail in the military academy's entrance exams because they did not pass the intelligence test," Shuai said.
Democratic Progressive Party Legislator Tang Huo-shen (湯火聖) questioned the ministry's standard in enforcing the IQ regulation.
"What's the difference between having a person who has an IQ of 100 and one who has an IQ of 90? How can you prove that the person who has an IQ of 100 will definitely perform better than the man with an IQ of 90?" Tang said, adding that the ministry's explanation would not convince anybody.
Comments will be moderated. Keep comments relevant to the article. Remarks containing abusive and obscene language, personal attacks of any kind or promotion will be removed and the user banned. Final decision will be at the discretion of the Taipei Times.