Taiwanese team races to produce bird flu vaccine
Scientists are preparing to mass produce a bird flu vaccine developed using a novel cell-based technology to battle any possible outbreak of the H5N1 virus.
Starting from scratch, a team at the Vaccine Research and Development Center of the National Health Research Institutes took just 13 months and NT$40 million (US$1.21 million) to develop the necessary expertise, team leader Pele Chong said.
Unlike most countries or companies which use chicken eggs as a medium for cultivating their vaccines, the team uses the so-called Madin-Darby canine kidney cell.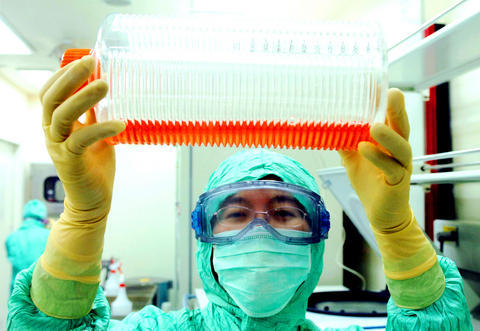 A researcher displays a bottle of M-Compound, a liquid to help cells grow, at the National Health Research Institute in Chunan on Thursday. Taiwanese scientists are preparing to mass produce a bird flu vaccine using a novel cell-based technology to battle a possible outbreak of the H5N1 virus.
PHOTO: SAM YEH, AFP
"Our cell technology is based on dog kidney cells and this has not been used in any vaccine production," he said.
He said one of the reasons they chose not to use egg-based technology was the possible shortage of eggs in case of a bird flu outbreak.
US-based Baxter Vaccines also uses cell-based technology, but centered on the African green monkey kidney cell.
The vaccine is intended to provide Taiwan with an indigenous defense against a resurgence of bird flu which has claimed at least 171 lives worldwide since 2003, most of them in Asia.
It is expected to undergo human clinical trials next year.
"As vaccines are to be used on humans, Taiwan's government and our team will make sure of their safety before we can initiate the first and second phase of clinical trials" next year, Chong told a group of foreign correspondents on Thursday.
The researchers are able to produce about 7,000 doses a month in the laboratory and hope to increase this tenfold after construction of a pilot plant is completed before the end of the year.
Health authorities hope that a factory could be built with an annual capacity of 16 million doses of vaccine.
"In the past, Taiwan's government had neglected the vaccine industry," Chong said.
"Some claimed that if you want milk, you just buy milk, why bother building farms and raising cows. But the problem is, you may know, nowadays even if you have money, you may not be able to acquire the vaccines you badly need," he said.
The health authorities have stockpiled 190,000 imported vaccines for emergency use even though they have not undergone human clinical trials.
The vaccine project is part of a plan launched by the government in January to guard against a bird flu epidemic.
Comments will be moderated. Keep comments relevant to the article. Remarks containing abusive and obscene language, personal attacks of any kind or promotion will be removed and the user banned. Final decision will be at the discretion of the Taipei Times.