Special investigation team formed
DOUBTS A KMT legislator said the government would pressure the state public prosecutor and his team into undermining probes into DPP presidential hopefuls
The nation's first special investigation team under the state public prosecutor-general was established yesterday with an opposition legislator doubting that the team would properly investigate the alleged misuse by Democratic Progressive Party (DPP) presidential hopefuls of special allowance funds.
Prosecutors Eric Chen (陳瑞仁) and Hou Kuan-jen (侯寬仁), who indicted first lady Wu Shu-jen (吳淑珍) and former Chinese Nationalist Party (KMT) chairman Ma Ying-jeou (馬英九), handed over their probes into four DPP politicians to the special investigation team yesterday.
Prosecutors launched the probes after KMT Legislator Tseng Yung-chuan (曾永權) and other KMT legislators last year filed a lawsuit asking prosecutors to investigate the use of special allowance funds by Vice President Annette Lu (呂秀蓮), Premier Su Tseng-chang (蘇貞昌), DPP Chairman Yu Shyi-kun and former premier Frank Hsieh (謝長廷).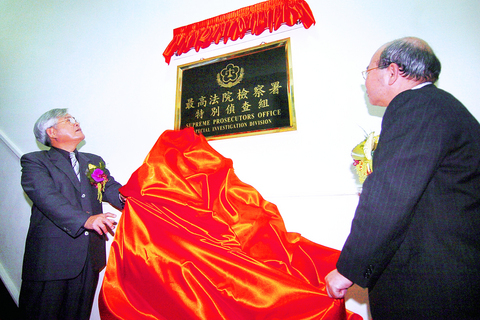 Vice Minister of Justice Lee Chin-yung, left, and State Public Prosecutor-general Chen Tsung-ming yesterday open the Special Investigation Division of the Supreme Prosecutors' Office in Taipei.
PHOTO: LO PEI-DER, TAIPEI TIMES
The results of the probes could have an impact on their candidacy in the party's presidential primary.
A KMT legislator yesterday asked prosecutors to speed up probes into the four DPP members' alleged misuse of funds.
KMT Legislator Lo Shih-hsiung (羅世雄) told a press conference he doubted the new investigation team would deal with the four presidential hopefuls' cases seriously, adding that the DPP government would put pressure on state public prosecutor-general Chen Tsung-ming (陳聰明) and his team, in an effort to get them to ease off their probes.
He said that insufficient manpower would also delay the team's investigations.
Eric Chen had said he was concerned that switching prosecutors could lead to controversy because the investigative standards could differ from those used in the the Ma and the first family investigations.
Last year's law empowers the nation's top prosecutor to form a special team to probe allegations of wrongdoing involving high-ranking government officials.
Comments will be moderated. Keep comments relevant to the article. Remarks containing abusive and obscene language, personal attacks of any kind or promotion will be removed and the user banned. Final decision will be at the discretion of the Taipei Times.