`Dog of Changhua' wins sympathy of the nation
NOTHING LIKE HOME 209, as he is also known, has lived on an interchange island for close to two years. A plan is now being hatched to help him return to civilization
Over two years ago, a black stray dog wandered onto the Sun Yat-sen Freeway and has lived ever since on the central island of the freeway, under bad conditions, perhaps because it dares not cross the busy road again.
The medium-sized dog lives on the central island between Changhua Interchange and Yuanlin Toll Station in central Taiwan.
The dog lives on food thrown at it by drivers. Since the place is located at the 209th kilometer of the freeway, local police have called the dog "209," while reporters at National Traffic Network of the Police radio station call it the "dog of Changhua."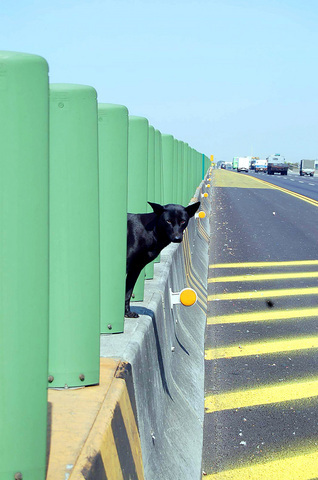 The 'dog of Changhua,' also known as 209, is seen on Jan. 31.
PHOTO: YEN HUNG-CHUN, TAIPEI TIMES
"I bet it is the stray dog that has survived the longest on a freeway island," said a driver surnamed Yen (顏), who drives through this section almost every day.
Yen first noticed "209" on a rainy morning over two years ago and he saw it again at the same location the next day.
Nobody knows exactly where "209" is from.
Local police said that it usually lingers on the 1m-wide island between Changhua Interchange, located at the 200th kilometer of the freeway, and Yuanlin Toll Station, at the 216th kilometer of the freeway.
Numerous drivers called Police Radio Station to show their concern, and "209" became famous.
A woman surnamed Lai (賴) usually prepares a piece of bread for her regular commute between Changhua County and Taichung City and throws it onto the island to feed "209."
Lai said that she feels happy whenever she sees "209," because it is good to know that the dog is still alive. She hopes it will be leave the freeway someday, because a wide and beautiful world is waiting for it on the other side of the road, she said.
Local police said that "209" mostly waits for food around the 209th kilometer of the freeway between 7am and 9am when drivers go to work and between 4pm and 6pm when they go off work.
It is a miracle that "209" has survived under such difficult conditions, they added.
In response to the case, workers from Taichung Universal Animal Protection Association said they would provide necessary tools and assistance to local police to move "209" from the island.
Comments will be moderated. Keep comments relevant to the article. Remarks containing abusive and obscene language, personal attacks of any kind or promotion will be removed and the user banned. Final decision will be at the discretion of the Taipei Times.