Nutritionist shortage puts student health in jeopardy
SERIOUS DEFICIT Although the law required that 390 school nutritionists should have been in service as of the end of last year, only 117 were actually on the job
The health of more than 2 million students could be threatened by poorly managed student lunch programs, a lawmaker claimed yesterday.
"Fifty-four percent of schools do not have any nutritionist in service," Chinese Nationalist Party (KMT) Legislator Justin Chou (周守訓) said at a press conference.
"Not only is it against the law, it also puts the health of over 2 million children at risk," he said.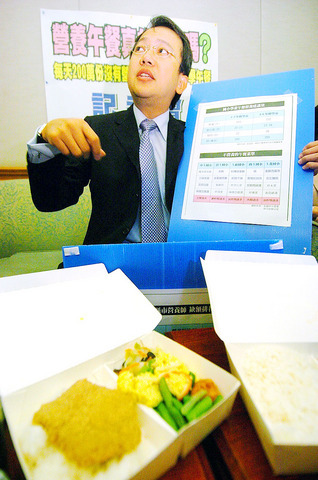 Chinese Nationalist Party (KMT) Legislator Justin Chou points to a table during a press conference yesterday that says 54 percent of the nation's schools do not have a nutritionist's services, a percentage well under legal requirements.
PHOTO: CHIEN JUNG-FENG, TAIPEI TIMES
Article 23 of the School Health Act (學校衛生法), passed by the legislature in 2002, requires that schools provide "sanitary, safe and nutritiously balanced food" and that elementary and junior-high schools "with over 40 classes ... have at least one nutritionist."
"It's astonishing to see that there is only one nutritionist serving the whole of Kaohsiung County," Chou said. "And there is not one in Tainan County."
Ministry of Education statistics showed that, by law, 390 nutritionist should have been in service by the end of last year.
At last count, there were only 117.
Sixteen lunch-related incidents were recorded last year, involving food poisoning, unusual amounts of bacteria in food and foreign objects in lunch boxes, among others.
Nutritionists inspected two student lunch boxes randomly selected from Taipei City schools.
Both samples failed the evaluation due to nutritional imbalance.
Insufficient budget was the main reason for the shortage in nutritionists, Lu Sheng-yuan (呂生源), a representative from the ministry, said at the press conference.
"But starting in September, the ministry will provide funds for local governments to hire nutritionists," he said.
"The vacancies will be filled and within five years we will have met the legal requirements," he said.
By September, all the counties will have at least one nutritionist to serve local schools, Lu said.
The ministry also planned to assign nutritionists to county governments to oversee lunch providers from outside of school, Lu added.
More than 20 percent of all elementary and junior-high schools outsource their lunch programs, affecting 36 percent of students, while the remainder have their own kitchens, the ministry said.
Comments will be moderated. Keep comments relevant to the article. Remarks containing abusive and obscene language, personal attacks of any kind or promotion will be removed and the user banned. Final decision will be at the discretion of the Taipei Times.