CWB forecasts soggy start to 2007 for north Taiwan
Residents of northern Taiwan are likely to celebrate New Year's Eve in the rain, the Central Weather Bureau (CWB) said yesterday.
According to the bureau, temperatures over the next few days will gradually rise as a cold front from the north weakens. While showers are expected in the north during the New Year celebrations, sunny weather is likely in the south.
Meanwhile, the bureau estimated that the first ray of sunlight on Jan. 1 would appear at 6:30am in Lanyu (蘭嶼) and then on Green Island (綠島) at 6:34am.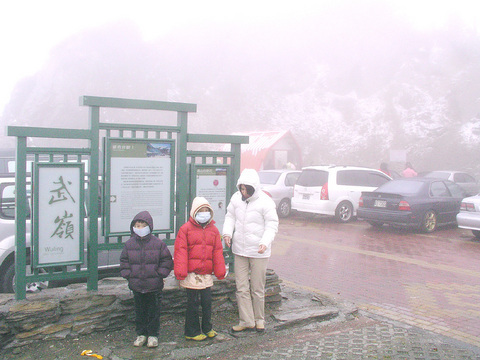 A family shivers in cold weather on Thursday while visiting Hehuan Mountain in central Taiwan.
PHOTO: TUNG CHEN-KUO, TAIPEI TIMES
The second cold front to visit Taiwan this winter caused low temperatures around the country yesterday.
Suao (蘇澳) was the coldest place in the country reaching only 11.4oC, followed by Chiayi (11.9oC) and Tamsui (12oC).
The bureau said that the temperature will drop below 10oC in areas north of Chiayi County, Kinmen (金門) and Matzu (馬祖) this morning.
The bureau indicated that daytime temperatures will fluctuate between 16 and 24oC next week.
Comments will be moderated. Keep comments relevant to the article. Remarks containing abusive and obscene language, personal attacks of any kind or promotion will be removed and the user banned. Final decision will be at the discretion of the Taipei Times.