Legislator accuses Presidential Office of misusing public funds on publishing
A Chinese Nationalist Party (KMT) Legislator yesterday accused the Presidential Office of misusing public money by using it to publish books about President Chen Shui-bian (陳水扁), Vice President Annette Lu (呂秀蓮) and first lady Wu Shu-jen (吳淑珍).
"They produced five publications," KMT Legislator Chiang Lien-fu (江連福) told a press conference.
"The 31,000 copies cost the public NT$5.5 million [US$168,504]," Chiang said.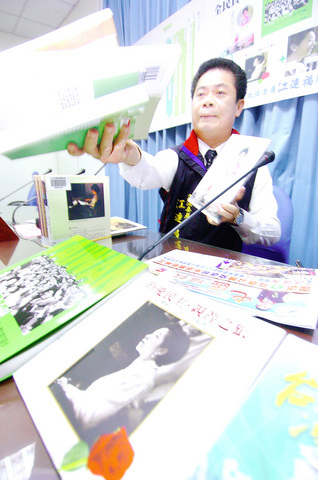 Chinese Nationalist Party Legislator Chiang Lien-fu holds up yesterday what he claimed is evidence that the Presidential Office misused public funds to publish books about President Chen Shui-bian, Vice President Annette Lu and first lady Wu Shu-jen.
PHOTO: SUNG CHIH-HSIUNG, TAIPEI TIMES
Chiang was referring to books about Chen's overseas visits, Chen's inspection tours around the country, two books covering Wu's overseas trips and one featuring Lu's experiences of being vice president.
"If the publications were for the purpose of publicizing the government's achievements, then they should have been widely distributed to the public, but the fact is that only selected people received the copies," Chiang said.
Chiang used, as an example, Lu's English-language book Soft Power, saying it was sent to staff of various government departments.
Democratic Progressive Party (DPP) Legislator Chen Chin-jun (陳景峻) hit back at Chiang's accusation, saying there was "nothing wrong with the matter."
Noting that KMT Chairman Ma Ying-jeou (馬英九) also had at least three books published during his eight-year Taipei mayorship, Chen Chin-jun asked: "Did Ma publish those books at his own expense?"
The Presidential Office yesterday said the overseas trips conducted by the first lady and the vice president were for the benefit of the country, rather than for their own benefit.
Regarding the budgets used to publish the books deputy Presidential Office spokesman Cho Chun-ying (卓春英) said the funds were used in accordance with the related laws and regulations.
Additional reporting by Ko Shu-ling
Comments will be moderated. Keep comments relevant to the article. Remarks containing abusive and obscene language, personal attacks of any kind or promotion will be removed and the user banned. Final decision will be at the discretion of the Taipei Times.