Feature: Ma Ying-jeou: how did he do in office?
SCORING THE MAYOR Ma said that Taipei residents were his judges and that they would score his performance. So how has he fared, and will the experience help him?
Eight years ago, Ma Ying-jeou (馬英九) took his oath of office as head of the Taipei City Government before becoming the first Taipei mayor to win re-election since popular elections for the post were re-introduced in 1994.
Handing over the city government to Taipei Mayor Hau Lung-bin (郝龍斌) yesterday, Ma's eight-year term officially came to an end.
"We have fought some good battles for the past eight years, some of them spectacular and others unknown ... My administration is a clean, harmonious and competitive team," Ma said in summing up his mayorship last Tuesday after presiding over his last municipal meeting.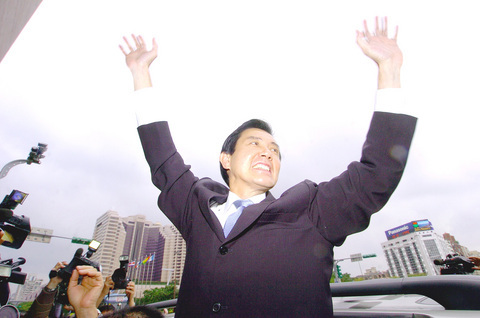 Outgoing Taipei mayor Ma Ying-jeou raises his hands to wave farewell to Taipei City Government staffers yesterday as he left city hall after the succession ceremony that marked the end of his mayoralty.
PHOTO: SUNG CHIH-HSIUNG, TAIPEI TIMES
Performance
Analysts and Taipei City councilors agreed that Ma's municipal record was far from perfect, while giving him credit for raising Taipei's competitiveness in the international community through several municipal developments.
"Ma's personal image has always overshadowed his municipal performance. His overall performance is not very impressive," said Yang Tai-shun (楊泰順), a professor of political science at Chinese Culture University.
Chinese Nationalist Party (KMT) Taipei City councilors Lin Yi-hua (林奕華) and Lai Su-ru (賴素如), on the other hand, said Ma's efforts on municipal projects, such as the Mass Rapid Transit (MRT) construction and the city's wireless network, should be recognized.
Under Ma's administration -- with six MRT lines already completed, and ongoing construction of seven more -- daily passenger traffic reached 1.1 million. It is clear that more residents were encouraged to take advantage of public transportation.
The quality of the city's MRT system was affirmed in the eyes of the international community, as it was rated by the University of London's Railway Technology Strategy Center as the most reliable among the world's 25 major metro systems for the second time last year.
With an ambition to turn Taipei into an international technology hub, Ma initiated the WiFly project -- the extensive wireless network whose coverage has reached 90 percent of Taipei's population this year.
Although the municipal network, with a monthly fee of NT$399 (US$12), has attracted only 32,000 of Taipei's 2.6 million residents so far, the service has allowed people to go online in MRT stations, Starbucks coffee shops and more than 600 7-Eleven convenience stores. It has also played a role in making savings in the city government's budget, cutting phone bills, for example, by switching to VoIP systems from traditional phone lines.
Environment
On environmental issues, Taipei was the first city to implement the "Per Bag Trash Collection Fee" policy in 2000, reducing its garbage by 60 percent and increasing the recycling rate to 10 percent by last year.
Chen Yun-ren (陳永仁), director of Taipei City's Department of Environmental Protection, said that with such progress the department expected to reach its goal of "total recycling and zero landfill" by 2010, when all municipal solid waste will either be recycled or reused.
As an advocate of good health, Ma was a mayor who devoted a great effort to promoting physical exercise. Besides the construction of the Taipei Arena and public sports centers in each of the 12 districts, Ma's administration also added 80 swimming pools and extended biking routes and trails in and around the city.
"I heard many people complaining about having no place to go for exercise. Now that we have made exercise facilities accessible and affordable there won't be any excuse for our residents to get lazy," Ma said earlier last week during a ground-breaking ceremony for a new sports center in Xinyi District.
Prevention
On disaster prevention, the 921 earthquake in 1999, Typhoon Nari in 2001 and the SARS epidemic in 2003 prompted the city government to put a great deal of effort into preventative measures. The Taipei Urban Search and Rescue Team was established in 2000, the city's disaster-prevention capabilities were strengthened and more than 90 percent of proposed dike construction has been completed.
Poor performance in response to the incidents listed above, however, seriously dented Ma's reputation and led the public to question his leadership qualities.
Ma has been criticized for his handling of several crises, including his decision to lock down Taipei Municipal Hoping Hospital after the SARS virus was detected among medical personnel. The move failed to stop SARS from spreading and generated panic.
Ma also took flak over the incident involving "little sister Chiu," a young girl who died from injuries received after being beaten by her father. The girl died while awaiting treatment amidst bureaucratic bumbling at Taipei Municipal Renai Hospital.
Severe flooding in Taipei lasting for days in 2001 after Typhoon Nari struck the city also chipped away at Ma's image, as the public watched a swamped and indecisive administration acting too slowly, unable to negotiate with the central government to solve the mess.
City officials involved in scandals, including illegal profiteering from road paving projects, and Ma's recent embroilment in the controversy surrounding the use of his mayoral fund, further tarnished his image and generated criticism of the city government's integrity.
Aides
Questioning the mayor's choice of administrative aides, Ku Chung-hwa (顧忠華), a professor of sociology at National Chengchi University, said the similarity of the aides, most of them academics, was a major factor in Ma's "dull performance" as mayor.
"He is a conservative mayor who did not bring innovative developments to the city. The striking similarity of his aides is the biggest problem. What the administration sought was not to make any mistakes, rather than building the city," Ku said.
Yang agreed that Ma's administrative team has been like a "screw that is on the loose side."
"He and his team placed too much importance on protecting his image and ignored municipal developments," Yang said.
The administration, analysts said, were involved in many failed municipal policies, including the traditional markets renovation project.
Renovation
Jiancheng Circle, the city's oldest night market, was forced to shut down in July after a NT$200 million (US$6.17 million) project to turn the market into a modern, two-story building housing 25 food booths failed to revive it.
The Longshan Temple Underground Mall and Ximen Market shared similar fates, as the renovation projects only expedited the decline of business in the area.
Huang Rei-mao (黃瑞茂), a professor of architecture at Tamkang University, said Ma's urban renewal plan failed to understand the average person's needs, and did not take historical, cultural and emotional aspects of locations into consideration when setting up the projects.
DPP City Councilor Lee Chian-chang (李建昌) agreed. He said the urban renewal plan revealed the administration's sense of superiority, which prevented the city government formulating practical plans that could satisfy residents' basic needs.
"My impression is shaped by his failed policies. I can only give him a score of 49 percent for his eight years of work," he said.
Lee also lashed out at the city government's merger of 10 municipal hospitals into one unit last year. He said it had failed to provide a professional environment for medical staff or better health care for Taipei's residents.
While the Taipei City Department of Health's aim was to integrate medical resources to improve the quality of medical care, the increased workload and lower pay have scared 288 doctors and 522 nursing staff away since the merger, according to statistics from the hospital.
In response to criticism of his policies Ma acknowledged his administration's handling of the SARS epidemic and Typhoon Nari "caused some damage," and that the projects for renovation of traditional markets had failed.
"But I believe I have spared no effort for the past eight years, and have enjoyed some achievements. However, Taipei residents are my ultimate judges, and it is they who will score my performance," Ma said during his final meeting with the press.
Comparison
However, compared with some DPP local government heads, such as former Kaohsiung mayor Frank Hsieh (謝長廷) and former Ilan county commissioner Chen Ding-nan (陳定南), who both left their positions after impressive work -- Hsieh's renovation project on Kaohsiung's Love River and Chen's work on Dongshan River Water Park at Ilan -- Ma's mayorship was not a particularly valuable source of experience in his political resume.
"Many of his municipal policies were a continuation of previous works. There is not one development that Taipei residents would particularly recall and remember him for," Yang said.
Leaving government to focus on his position as KMT chairman, both Yang and Ku said Ma will face only tougher challenges handling party affairs and the "Taipei Experience" will not be a big help in his quest for a 2008 presidential election win.
Comments will be moderated. Keep comments relevant to the article. Remarks containing abusive and obscene language, personal attacks of any kind or promotion will be removed and the user banned. Final decision will be at the discretion of the Taipei Times.