Large oil spill pollutes east coast
CULPABLE? The ship, departing from Japan, had intended to stop at Hualien to pick up cargo from the Taiwan Cement Corporation. The company was fined NT$1.5 million
Taiwan's east coast was seriously polluted yesterday by an oil leak from a Maltese cargo ship grounded near the Suao (蘇澳) coastline.
"The incident polluted a stretch of coastline of at least 9km between Suao and Hualien County, and has had a serious impact on the marine environment, scenery and the local fishery," the director of the Environment Protection Bureau of Ilan County Government Tso Tsan-yang(鄒燦陽) told reporters yesterday.
Tso said the central government's Environment Protection Administration immediately formed an emergency response center at Suao with the bureau to deal with the situation.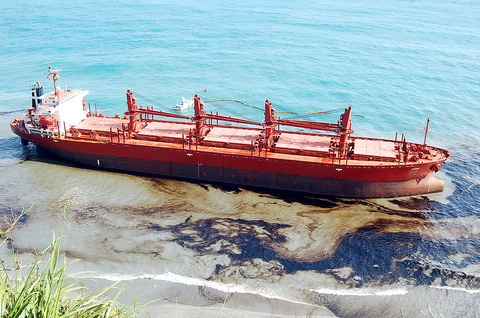 A Maltese frigate, the Tzini, leaked more than 110 tonnes of oil after running aground off the coast of Suao in Ilan County yesterday.
PHOTO: CHIANG CHIH-HSIUNG, TAIPEI TIMES
The Coast Guard Administration (CGA) said the Maltese cargo ship Tzini lost power off the coast yesterday at 5:30am. At about 9am, the ship drifted to within 70m of the shoreline and was grounded there.
The ship started leaking oil soon after when an oil tank broke open.
Around 110 tonnes of oil drained into the ocean and spread because of strong winds and prevailing currents, the administration added.
The color of the sea turned gray because of the pollution.
Tso said because the Suao coastline is mostly composed of cliffs, it is difficult to set up boom nets to prevent the oil spreading.
The CGA yesterday rescued 24 crewmembers from the ship, including 23 Filipinos and one Russian, by helicopters and boats.
The ship, departing from Japan, had intended to stop at Hualien Harbor and to pick up mineral cargo from the Taiwan Cement Corp, but it broke down before reaching Hualien.
Tso said that while the Taiwan Cement Corp had yesterday hired workers to clean up the pollution along the coast, the bureau also fined the company NT$1.5 million (US$46,000) for contributing to the incident.
The CGA said it was probing the cause of the incident, and would report on the matter as soon as possible.
Comments will be moderated. Keep comments relevant to the article. Remarks containing abusive and obscene language, personal attacks of any kind or promotion will be removed and the user banned. Final decision will be at the discretion of the Taipei Times.