Suspect in vote-buying scheme turns himself in
ON HIS OWN? Despite his claim that the entire plan was his alone, prosecutors suspected he could be the fall guy for other people and continued the inquiry
After Ku Hsin-ming (古鋅酩), the key suspect in the Kaohsiung vote buying scandal, turned himself in late on Wednesday, Kaohsiung prosecutors yesterday said they were now looking for a man surnamed Yang, whom Ku claimed he had worked with to buy votes in the Kaohsiung mayoral election last weekend.
After turning himself in, Ku told prosecutors that he was a vote captain for Chinese Nationalist Party (KMT) Kaohsiung mayor candidate Huang Chun-ying (黃俊英) and that he had initiated the scheme alone, adding that Huang had not been involved.
He said he paid NT$500 each to 22 voters and asked them to support Huang during the election. He also said that he had rented two tour buses for transportation of the 22 voters and taken them to Huang's campaign activities before election day.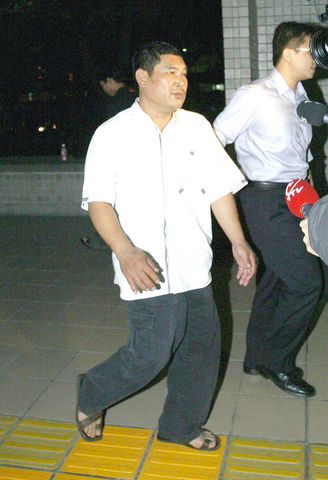 Ku Hsin-ming, who earlier this week confessed to vote buying during last weekend's Kaohsiung mayoral election, arrives at the Kaohsiung District Court early yesterday morning.
PHOTO: CHANG CHUNG-YI, TAIPEI TIMES
"Based on Ku's statement, we can say that parts of it are true but some parts might not be," said Kaohsiung District Prosecutors' Office spokesman Chung Chung-hsiao (鍾忠孝). "It seems to us that Ku was trying to take all the responsibility for what happened."
Ku later told prosecutors that another man -- surnamed Yang -- was also involved.
"We are trying to track down another suspect: 43-year-old Yang, who may have worked with Ku on the bribery," Chung said.
Chung said prosecutors had interrogated all 22 voters who accepted money from Ku, adding that their statements supported Ku's confession.
The 22 voters have returned the bribe money but have been listed as defendants in the case, Chung said.
Prosecutors revealed that Ku earns less than NT$30,000 a month.
They said it was unlikely Ku had orchestrated the entire scheme and suspected that he was taking the blame to cover for other individuals who may have been involved.
At press time yesterday, the prosecutors were done questioning Ku and had decided to detain him.
A profile of Ku showed that he had received a 16-year sentence for a murder committed in 1989 but that he was released during an amnesty in 1994.
Ku was out of touch for days after prosecutors over the weekend started questioning individuals whom they suspected were involved in the case.
Chung said that Ku told prosecutors he had disappeared because "all of a sudden he did not know what to do."
KMT Chairman Ma Ying-jeou (馬英九) yesterday urged prosecutors to run a polygraph on Ku and to ask him why he had agreed to give an exclusive interview to a certain media outlet.
"The prosecutors must look deeply into the case and find out who he contacted during the past four days. They must also find out why he chose to give an exclusive interview," Ma said.
Before turning himself in, Ku contacted the Liberty Times (the sister newspaper of the Taipei Times), which published the interview yesterday.
In it, Ku said that the money given to the 22 voters came from his own pocket because he admired Huang and hoped he would be elected as Kaohsiung mayor.
"Is there really such an enthusiastic person on earth?" Ma asked.
Additional reporting by Mo Yan-chih
Comments will be moderated. Keep comments relevant to the article. Remarks containing abusive and obscene language, personal attacks of any kind or promotion will be removed and the user banned. Final decision will be at the discretion of the Taipei Times.