Taiwan dips in corruption index
MAY GET WORSE Because the survey is based on a country's performance for the past two to three years, the current political scandals could cause it to fall more
Taiwan's chapter of Transparency International (TI-Taiwan), a non-governmental agency, yesterday published its Corruption Perception Index (CPI) for this year, which ranked Taiwan No. 34 among 163 countries.
"Taiwan's ranking slightly declined from last year's 32nd to this year's 34th, but the result is in line with the public's perceptions about corruption, especially since there have been so many corruption scandals, including last week's indictment of first lady Wu Shu-jen (吳淑珍)," Chilik Yu (余致力), the executive director of TI-Taiwan, said at a press conference yesterday.
Yu said the CPI evaluation was based on the country's performance in the past two to three years, so he warned that the political scandals in Taiwan this year could affect the country's CPI performance in the future.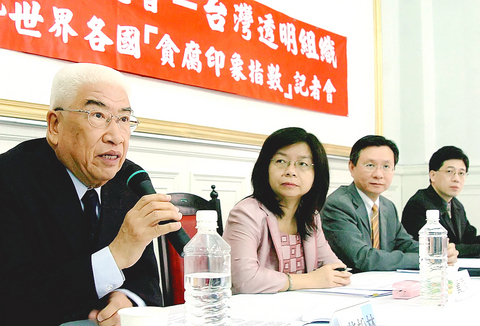 Chai Sung-lin, left, chief of the Clean Election Promotion Foundation, Huang Shiow-duan, second left, chairwoman of the Taipei Society, Chilik Yu, second right, executive director of Transparency International Taiwan (TI-Taiwan), and foundation secretary-general Hsieh Li-kung yesterday announce that Taiwan had fallen two spots in this year's TI Corruption Perception Index.
PHOTO: CHU PEI-HSIUNG, TAIPEI TIMES
Taiwan has made little progress with its CPI in the last 10 years, with its rankings swinging between No. 25 and No. 35.
"Taiwan is regarded as a `middle integrity' country in the CPI," Yu said.
Yu and two of the panelists at the press conference, Chai Sung-lin (柴松林), chief of the Clean Election Promotion Foundation, and Huang Shiow-duan (黃秀端), chairwoman of the Taipei Society, asked President Chen Shui-bian (陳水扁) to step down immediately without waiting for a court verdict as he requested in a press conference on Sunday.
"We called for the president to abide by his words when he said he would step down if he or his family involved in corruption scandals. Chen's stepping down would protect Taiwan's constitutional system, legal system and international image," Yu said.
Huang said the indictments handed down by Prosecutor Eric Chen's (陳瑞仁) boosted Taiwan's judicial system and were a sign of democratic progress.
Taiwan ranked No. 32 last year among 159 countries in last year's survey, No. 35 in 2004 among 146 countries, No. 30 in 2003 among 133 countries, No. 29 in 2002 among 102 countries and No. 28 in 2000 among 90 countries.
This year's survey saw a tie between Iceland, New Zealand and Finland for the No. 1 spot.
In Asia, Singapore was ranked No. 5, Hong Kong No. 15, Japan No. 17, South Korea No. 42 and China No. 70.
Yu also said that Transparency International is an organization devoted to combatting corruption by bringing civil society, business and governments together.
He said the CPI ranked 163 countries this year on the degree that corruption is perceived to exist among officials and politicians. It is a composite index, drawing on 16 polls and surveys from 10 independent institutions.
Comments will be moderated. Keep comments relevant to the article. Remarks containing abusive and obscene language, personal attacks of any kind or promotion will be removed and the user banned. Final decision will be at the discretion of the Taipei Times.