Presidential Office in crisis: Ma leads thousands to protest Chen
DISUNITED FRONT James Soong, along with anti-Chen campaign organizers, stayed well clear of yesterday's protest, peeved at Mayor Ma Ying-jeou
Chanting "A-bian step down," thousands of protesters took to the streets yesterday at a Chinese Nationalist Party (KMT)-initiated rally, urging President Chen Shui-bian (陳水扁) to resign immediately over the indictment of the first lady on corruption charges.
Dissatisfied with KMT Chairman Ma Ying-jeou (馬英九), who also serves as Taipei mayor, for his insistence on dispersing anti-Chen protesters who unlawfully occupied Ketagalan Boulevard on Saturday morning, both anti-Chen campaign organizers and People First Party (PFP) Chairman James Soong (宋楚瑜) did not attend the rally and refused to mobilize supporters to participate in the event.
While reiterating his call for the Democratic Progressive Party (DPP) to support the third recall motion against Chen, Ma also appealed to the anti-Chen protesters, lauding campaign leader Shih Ming-teh (施明德) for leading a new civil movement.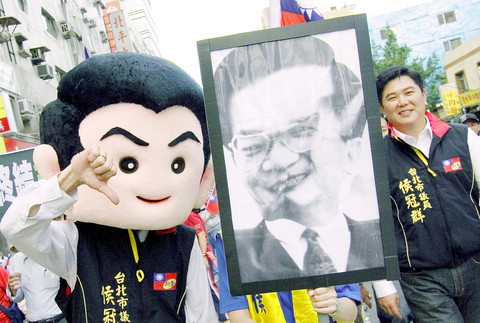 Supporters of Chinese Nationalist Party (KMT) chairman Ma Ying-jeou display a distorted photo of President Chen Shui-bian during a rally against Chen yesterday in Taipei.
PHOTO: AP
"I personally don't think we should force President Chen out of power by means of street demonstrations like in the Philippines. Taiwan is already a democratic country and therefore we should ask Chen to step down through legal procedures," Ma told the protesters at Ketagalan Boulevard.
Arguing that his disapproval of taking extreme measures to oust Chen was to protect the country's democratic system, Ma urged the anti-Chen crowd to follow the law, rather than "abusing the freedom" inherent in a democratic society.
"Let's not irritate the DPP now. We should give the party some time to think over the issue," Ma said.
If the DPP still refused to separate itself from the president and to support the recall motion, Ma said, voters should punish the DPP by voting for the KMT in the Taipei and Kaohsiung mayoral elections next month.
Soong, who is running in the Taipei mayoral election, condemned Ma for dispersing the anti-Chen crowd on Saturday, and said he decided not to support the KMT-initiated rally because the KMT was using the occasion to campaign for its mayoral and city council candidates.
Before leading the crowd towards Ketagalan Boulevard, Ma said the KMT was holding the rally to urge Chen to step down.
KMT Taipei mayoral candidate Hau Lung-bin (郝龍斌) and his aides, however, were seen wearing Hau's campaigning T-shirts. On stage Hau lashed out at his DPP counterpart Frank Hsieh (謝長廷) and urged voters to support him.
Many anti-Chen campaign protesters, did attend the rally, identifiable by their red clothes, self-made placards, and use of the thumbs down sign while chanting "A-bian step down."
"I hope the president will just step down now. I have no expectations about his explanations because he will only try to defend himself ... I hope that he will step down tonight, so that I won't have to participate in any more rallies," protester Nono Chen told the Taipei Times.
In response to concerns that the party may have enjoyed unfair privilege from the Taipei City Government which granted its protest permit within two days, KMT Legislator Wu Yu-sheng (吳育昇) argued that the party had already acquired a permit for Kegatalan Boulevard 10 days ago. He however acknowledged that applying for the protest permit two days before holding the rally was not in accordance with the regulations.
According to the law, protest organizers are required to apply for a protest permit six days prior to the event.
But the six-day limitation may be ignored if the rally had to be held immediately due to some "unpredictable major emergency."
Some critics had panned Ma for deciding that the KMT's rally yesterday qualified as an "unpredictable major emergency."
Ma yesterday also assured protesters that he would not accept some party members' suggestion that he quit his position as Taipei mayor to focus on ousting Chen.
"I have an eight-year promise with Taipei residents and I don't plan to break the promise. Besides, I don't think it's necessary to resign," Ma said.
Comments will be moderated. Keep comments relevant to the article. Remarks containing abusive and obscene language, personal attacks of any kind or promotion will be removed and the user banned. Final decision will be at the discretion of the Taipei Times.