Commuters slam the TRA over failure to adjust rail timetable
LEGISLATOR WRATH TSU lawmakers threatened to boycott the railway administration's budget if it failed to improve its performance in the future
Train commuters complained yesterday that the Taiwan Railway Administration (TRA) had failed to adjust the rail timetable to account for schedule changes.
Most commuters were unable to obtain the new timetables until Tuesday night -- the night before the administration moved over to the new schedule.
TRA announced earlier that a new timetable had been established to accommodate the needs of passengers after the high speed railway became operational.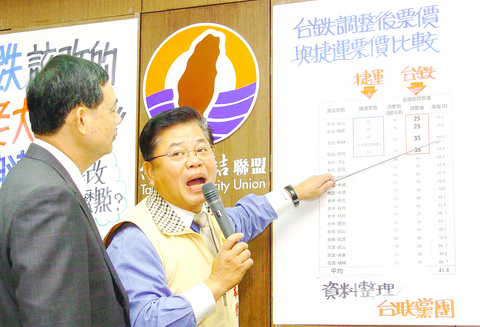 Taiwan Solidarity Union legislator Liao Pen-yen points to a table with prices for MRT and railway tickets while blasting the Taiwan Rail Authority yesterday for last-minute timetable changes and increased ticket prices for short distance trips. The legislator charged that the TRA was ignoring the needs of its passengers and causing confusion.
PHOTO: SUNG CHIH-HSIUNG, TAIPEI TIMES
Under the new schedule, some long-distance trains have changed their arrival and departure times owing additional stops. Some express trains had been eliminated during off-peak periods, and a total of 32 new commuter trains have been added in the north, south and central areas.
The high-speed railway was due to begin operation at the end of last month. Taiwan High-Speed Rail Corp spokesman Chiang Chin-shan (江金山) however last last month confirmed that the opening had been pushed back to Dec. 7. The administration was forced to alter the schedule to compensate and ordered a reprint of the rail timetable at short notice.
The administration said it had printed 250,000 new copies. Each passenger is permitted to take only one free copy.
The schedule will change again when the high-speed railway finally becomes operational.
Meanwhile, lawmakers from the Taiwan Solidarity Union (TSU) yesterday criticized the TRA for constantly changing the train schedules as well as its plan to raise ticket prices.
Liao Pen-yen (廖本煙) asked TRA Deputy Director Chen Feng-nan (陳峰男) why the administration insisted operating on a new timetable knowing that the high-speed railway would not be launched on schedule. Other lawmakers lashed out at the fact that the administration has changed timetables seven times and planned to raise the price of tickets.
Jointly, they threatened to boycott the TRA's budget if it failed to improve its performance.
Chen emphasized that the changes this time were minor. Though the printed schedules came in late, the administration had already posted the new timetable on its official Web site, he said.
"The administration has not raised its prices for 11 years," Chen added, "The price change mainly affects short distance commuters; long distance travelers will continue to be charged by the kilometers they travel."
Comments will be moderated. Keep comments relevant to the article. Remarks containing abusive and obscene language, personal attacks of any kind or promotion will be removed and the user banned. Final decision will be at the discretion of the Taipei Times.