Hundreds of pan-greens, groups form assets alliance
More than 1,000 pro-independence and civic associations joined the Democratic Progressive Party (DPP) yesterday in establishing an alliance aimed at promoting a referendum on recovering the Chinese Nationalist Party's (KMT) stolen assets.
DPP Chairman Yu Shyi-kun told a press conference that the number of groups which had joined the referendum campaign symbolized "the Taiwanese people's pursuit of the truth."
Calling the KMT "inherently structured for corruption," Yu said that although former KMT chairman Lien Chan (連戰) had once promised to return the assets to the people -- a promise that Chairman Ma Ying-jeou (馬英九) endorsed -- the KMT has employed "delaying tactics" in dealing with its assets.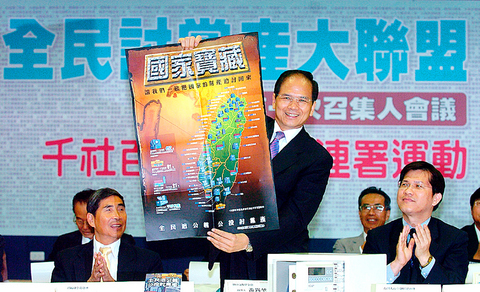 Democratic Progressive Party (DPP) Chairman Yu Shyi-kun holds up a poster detailing the locations of the Chinese Nationalist Party's (KMT) stolen assets at a press conference yesterday. The DPP and a number of civic groups have established an alliance to promote a referendum on recovering the KMT's stolen assets.
PHOTO: LIU HSIN-DE, TAIPEI TIMES
Ma has called the assets a "historical problem," but the KMT has continued selling its assets, the DPP chief said.
If the problem were merely a historical issue, Yu said, then the KMT should not have blocked a bill designed to recover the stolen assets from being put on legislative agenda 102 times, Yu said.
Yu said that the DPP had submitted a proposal to hold a referendum on recovering the assets to the Cabinet's Referendum Review Commission in early September, but that the commission had failed to follow regulations and finish reviewing the proposal within a month.
DPP Secretary-General Lin Chia-lung (林佳龍) said the party hoped the commission would complete the review by tomorrow, so that the party could launch a signature campaign later this month.
Lin said the alliance picked Oct. 31 as the date to launch its establishment because it was former dictator Chiang Kai-shek's (蔣介石) birthday.
The party wished to highlight the fact that the KMT's party assets problem began when Chiang came to Taiwan, he said.
"Eastern European [countries] and Russia did not become real democracies until their party assets problems were dealt with," Lin said.
Taiwan Solidarity Union Secretary General Lin Chih-chia (林志嘉) said the establishment of the alliance marked the start of Taiwan's move toward social justice.
Members of the alliance include the Taiwan Association of University Professors, the Kiwanis Taiwan, the Taiwan Society, Constitutional Reform Alliance, the Taiwan United Nations Alliance and the Taiwan Law Society.
Comments will be moderated. Keep comments relevant to the article. Remarks containing abusive and obscene language, personal attacks of any kind or promotion will be removed and the user banned. Final decision will be at the discretion of the Taipei Times.