Chen Shui-bian tours military facilities
MID-AUTUMN BOOST The president thanked personnel from various branches of the military for their contributions to the nation's defense
President Chen Shui-bian (陳水扁) conducted an inspection tour of various military bases on the Mid-Autumn Festival holiday yesterday to greet military personnel and thank them for their devoted service to the country.
In his capacity as commander-in-chief, Chen visited Air Force Operations Command in the company of Minister of National Defense Lee Jye (李傑), Air Force Commanding General Shen Kuo-jen (沈國禎) and other ranking military brass.
Chen listened to briefings on joint operations of the Air Force and offered special bonus money to Air Force personnel as a token of his appreciation for their services during the holiday.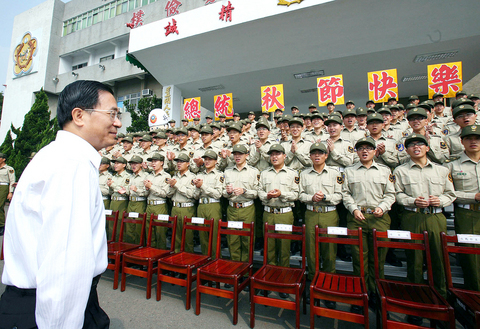 President Chen Shui-bian is welcomed by military police while inspecting a military base in Linko, Taipei County, yesterday.
PHOTO: SAM YEH, AFP
The president then made a whirlwind tour of military bases around the northern military area of Linko (林口), where he visited a military police base, a marine corps base and an army command base.
Chen was welcomed by commanders and representatives of various military units stationed in Linko.
Chen expressed his admiration for the high morale shown by all the troops in the units and their contributions to national defense.
Neutrality
Lee, while addressing a ceremony at the Ministry of National Defense on Thursday in celebration of the upcoming Double Ten National Day, again reminded all military personnel, regardless of their rank, position and pay level, to stay out of politics in accordance with constitutional provisions.
The appeal came amid turmoil arising from an anti-corruption campaign aimed at pressuring Chen to resign.
Sporadic clashes between Chen's opponents and supporters have been reported at street rallies in some southern cities. The presence of a handful of those in military uniform at anti-Chen rallies has drawn criticism.
Noting that members of the armed forces are required by the Constitution to avoid personal, regional and partisan affiliation, and to be loyal to the country and protect the people, Lee said every service member should refrain from taking part in political activities.
"All men and women in uniform should dedicate themselves to serving the country and the people and transcend partisan affiliations while working to uplift military professionalism and hone their combat skills," he said.
IDF fighter
In related news, the ministry declined to comment on a media report that progress has been made on a mid-life upgrade project for the locally developed Ching-kuo indigenous defense fighters (IDF).
According to a report in the Chinese-language Liberty Times (the Taipei Times' sister paper) on Thursday, an upgraded version of the IDF fighter with in-flight refueling capability has undergone test flights.
Ministry spokesman Wu Chi-fang (吳季方) said the IDF mid-life upgrade program, code-named "Project Shiang Sheng," is classified.
"The project is still ongoing and the ministry is not in a position to elaborate on its implementation," Wu said.
Military sources said that the military-run Chungshan Institute of Science and Technology guided the upgrade and commissioned the state-owned Aerospace Industrial Development Corp to undertake the project.
The primary objective of the project is to improve the strike capability of the IDF, turning it into a "joint countermeasures platform" as a part of the new strategy to "conduct decisive battles outside the territory," the sources said.
Comments will be moderated. Keep comments relevant to the article. Remarks containing abusive and obscene language, personal attacks of any kind or promotion will be removed and the user banned. Final decision will be at the discretion of the Taipei Times.