Consumer protection agency worried about diapers
BELOW PAR An official said that substandard diapers typically leaked and were not designed to contain a sufficient amount of human waste
Too many disposable diaper products, including brandname diapers, fall well below national safety and quality standards, the Cabinet-level Consumer Protection Commission announced yesterday.
The commission recently selected at random five adult diaper products and "most" brand-name infant diapers and submitted them to the Bureau of Standards, Metrology and Inspection under the Ministry of Economic Affairs to be tested, commission spokesman Wu Cheng-hsueh (吳政學) said.
"The results of the inspection revealed that 50 percent of the infant diapers sampled were not up to par, and many of the adult diapers were substandard too," Wu told reporters at a press conference yesterday at the commission's Taipei headquarters.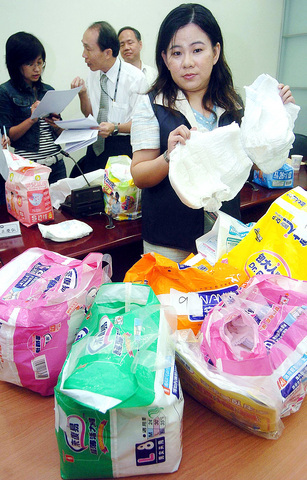 Chuang Huei-yuan of the Consumer Protection Commission holds up diapers at a press conference yesterday.
PHOTO: LIU HSIN-DE, TAIPEI TIMES
"My father is bed-ridden and needs [his diapers] changed twice a day," Wu said, adding that "perhaps all of us will one day need to wear diapers, so this is an issue we should pay attention to."
Chuang Huei-yuan (莊惠媛), a consumer ombudsman at the commission, told reporters that substandard diapers typically leaked and were not designed to contain a sufficient amount of human waste.
"If diaper materials can't properly hold or distribute the waste, that can wreak havoc on elderly wearers' skin, which is very sensitive," Chuang said.
She called on the ministry to enforce quality standards on diaper manufacturers.
Chang Hsiu-te (張修德), a bureau spokesman, admitted that low standards translated into poor quality, which poses risks to the delicate skin of babies and the elderly.
Chang added that the bureau was still assessing the situation and would issue a "more in-depth study in the future."
According to a commission press release, sub-standard diaper products also flunked labeling and pH-level standards, adding that expiration dates and other information were either missing or unclearly marked.
Comments will be moderated. Keep comments relevant to the article. Remarks containing abusive and obscene language, personal attacks of any kind or promotion will be removed and the user banned. Final decision will be at the discretion of the Taipei Times.