Vice Premier Tsai is nobody's fool
ROCK SOLID While many may disagree with her policies and politics, the vice premier and former chairwoman of the Mainland Affairs Council is highly respected by everyone
Vice Premier Tsai Ing-wen's (蔡英文) determined attitude was well demonstrated during the Conference on Sustaining Taiwan's Economic Development held late last month.
Tsai, though well-known as head of the panel that developed former president Lee Teng-hui's (李登輝) "special state-to-state" theory (兩國論) in 1999, was locked in a heated debate at the conference with members of the pro-independence Taiwan Solidarity Union over the easing of the 40 percent cap on investment in China.
She was spotted during the conference breaks negotiating with other participants over plans to ease the investment ceiling, which was eventually listed with the "other opinions" -- those intended to serve as advice for the government, but which would have no binding effect on the Cabinet.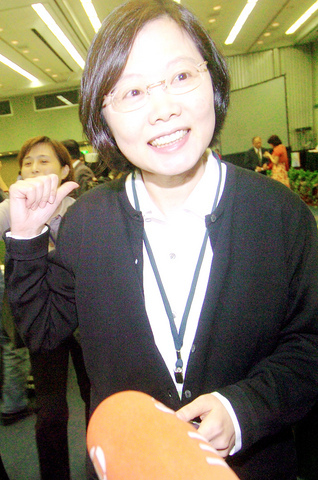 Tsai Ing-wen
Known for her articulate and precise expression in English, Tsai played the role of conciliator in 2002 during her term as chairwoman of the Mainland Affairs Council (MAC), flying to Washington to explain President Chen Shui-bian's (陳水扁) remarks that Taiwan and China are "one country on each side" of the Taiwan Strait.
She convinced players in Washington that Taiwan had not changed its stance on cross-strait relations.
Tsai first took on the leadership of the MAC in 2000. Although she was not then a Democratic Progressive Party (DPP) member, she was well-trusted by the DPP government as well as President Chen Shui-bian (陳水扁).
"During her first year as chairwoman of the MAC, she simply would not talk to the press," said a senior cross-strait affairs journalist who wished to remain anonymous. "Now, she does, but what she tells you are only those things that she wants you to know."
While Tsai had once explained to reporters that her cautiousness is driven by a desire to avoid misunderstanding, some reporters complain that Tsai's remarks usually contain nothing but political language and rhetoric.
Tsai's professional attitude has garnered approval from both the pan-blue and pan-green camps.
"She does not bluff about something that will never happen or try to avoid difficult questions posed by lawmakers. That is really something," said former Chinese Nationalist Party (KMT) legislator Apollo Chen (陳學聖).
Former DPP legislator Shen Fu-hsiung (沈富雄) said Tsai's performance as head of a government agency should be a role model for her fellow government leaders.
"Her statements or answers to the legislature are always logical and clear," Shen said. "Sometimes I really felt that listening to her in the legislature was a joy."
Former KMT legislator Liao Feng-te (廖風德) said Tsai's perseverance and firm attitude impressed him the most, although he would not really appreciate it all the time.
"I questioned her on the MAC's policies many times and there were several quarrels between us on the legislative floor. However, she would insist on the rightness of her positions and explain them to me patiently -- even though I still believed that there were flaws in them. That was quite different from other government officials," Liao said.
The vice premier is also known for her tendency to retain a low-profile, which is typical of both her work and private life.
For instance, she was entitled to a driver when she was the MAC chairwoman and still has the right to this service as vice premier. But, she prefers to drive by herself. In addition, she has refused the service of bodyguards.
Despite the fact that her father passed away in the lead-up to the economic conference, she only asked to take a week off after the conference concluded.
Publication Notes
Tsai Ing-wen
Date of Birth: Aug. 31, 1956 Place of Birth: Taipei City Education: PhD in law, London School of Economics and Political Science, 1984; LLM, Cornell University Law School, 1980; BA, National Taiwan University Department of Law, 1978 Experience: Vice Premier Jan. 2006-present; Democratic Progressive Party legislator Dec. 2004-Jan. 2006; Mainland Affairs Council chairwoman, 2000-2004; professor at National Chengchi University's Department of International Trade, 1993-2000; professor, Soochow University Law School, 1991-1993; professor, National Chengchi University Department of Law, 1984-1991
Comments will be moderated. Keep comments relevant to the article. Remarks containing abusive and obscene language, personal attacks of any kind or promotion will be removed and the user banned. Final decision will be at the discretion of the Taipei Times.