Ma accused of embezzlement
SPECIAL ALLOWANCE DPP legislators said that they suspected Taipei's mayor had funneled half of a monthly fund provided by the city into a personal account
Democratic Progressive Party (DPP) legislators yesterday accused Taipei Mayor Ma Ying-jeou (馬英九) of embezzling the special allowance that the city government distributes to the mayor.
Alleging that Ma's bank balance increased substantially last year, DPP lawmakers said Ma was suspected of funneling the special allowance fund into his personal account.
Showing the records of the Property Declaration by Public Servants, DPP Legislator Hsieh Hsin-ni (謝欣霓) said that the value of Ma's property rose rapidly between 2004 and last year.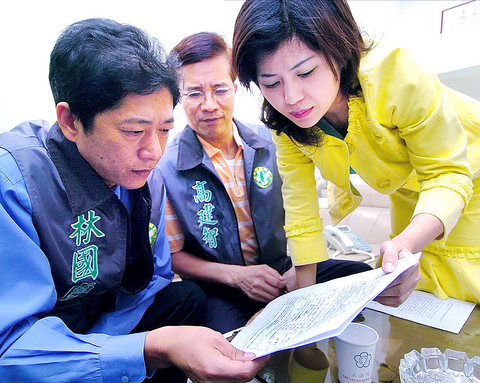 From left to right, Democratic Progressive Party legislators Lin Kuo-ching, Kao Chien-chih and Hsieh Hsin-ni yesterday peruse a document detailing the value of Taipei Mayor Ma Ying-jeou's property.
PHOTO: FANG PIN-CHAO, TAIPEI TIMES
It was strange that Ma's bank balance could increase by around NT$4.1 million (US$124,923) in such a short space of time, Hsieh said.
"We have reason to believe that Ma diverted the city government's special allowance fund to pay for his personal living expenses because it is unlikely that Ma and his wife could have saved so much money in just one year, considering their salaries," Hsieh said at the press conference, held with DPP legislators Huang Wei-cher (黃偉哲), Wang Shi-cheng (王世堅), Lin Kuo-ching (林國慶) and Kao Chien-chih (高建智).
Hsieh said that Ma and his wife earned about NT$6.45 million per year but if living expenses of about NT$4.4 million were deducted the maximum savings Ma's family could have accumulated would be about NT$2 million.
"But Ma's savings doubled last year and we suspect that Ma obtained the extra money from the special fund," Hsieh said.
Ma received a special allowance of NT$340,000 per month, said Lin, who suspected that Ma siphoned off half of it so he could double his savings last year.
In response, Ma yesterday said most of his special allowance was used in public welfare service.
"I've always separated special allowance fund expenditures from my personal expenses," Ma said at Taipei City Hall.
Ma said that regulations for the special allowances allotted to the country's top government officials were the same as those that he was subject to and required officials to provide receipts for only half of the expenditures.
Ma added he had already made public his expenditures in May and welcomed the Ministry of Audit to look into his accounts.
Ma provided copies of his bank account records and explained his financial situation to the press in May after being accused by DPP Taipei City councilors of steering funds to two private foundations that he set up.
Comments will be moderated. Keep comments relevant to the article. Remarks containing abusive and obscene language, personal attacks of any kind or promotion will be removed and the user banned. Final decision will be at the discretion of the Taipei Times.