Pan-blues say Taiwan almost broke
Pan-blue-camp lawmakers and academics accused the government yesterday of doctoring financial reports and embezzling public assets, claiming the country is "almost broke" as a result of rampant corruption and mismanagement.
People First Party Legislator Liu Yi-ju (劉憶如) told a meeting for the legislature and government officials that the Democratic Progressive Party (DPP) government used six tricks to make false financial statements over the past six years.
He said it had exaggerated tax revenues, fabricated income from selling government-owned shares in state enterprises, wasted public money, doctored accounting items, made complicated reinvestments to evade legislative auditing and hid key information and then endorsed this behavior.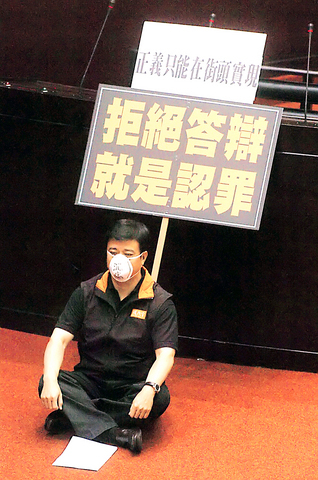 People First Party Legislator Liu Wen-hsiung protests against President Chen Shui-bian's decision not to defend himself in the legislature after pan-green camp legislators boycotted the second day of recall proceedings yesterday.
PHOTO: SEAN CHAO, TAIPEI TIMES
She quoted international rating agencies as claiming that Taiwan's financial rankings dropped to 79th in the world -- and that government debt was running at NT$11 trillion (US$337.5 billion) or 110 percent of GDP, as opposed to the government's claims of 39 percent.
President Chen Shui-bian (陳水扁) was not telling the truth when he said Taiwan could afford to borrow "twice as much" as it has, the lawmaker said.
The meeting was held to review an opposition-initiated motion to recall the president. DPP lawmakers and most government officials boycotted the meeting.
Chinese Nationalist Party (KMT) Legislator Joanna Lei (雷倩) said NT$4.61 trillion in public assets had been improperly removed through merging state-owned banks with private holding companies, BOT projects, privatization of state-owned businesses and "sheer waste" by government departments.
People First Party Legislator Liu Wen-hsiung (劉文雄) covered his mouth with a mask during the session and sat on the floor near placards reading "Justice can only be realized in the streets" and "Refusing to answer legislative charges amounts to confessing to crimes."
The signs were a reference to the president's decision to bypass the legislature in rebutting opposition charges.
Yesterday's legislative committee meeting was second in a series of four before the legislature votes on the recall motion next Tuesday.
Comments will be moderated. Keep comments relevant to the article. Remarks containing abusive and obscene language, personal attacks of any kind or promotion will be removed and the user banned. Final decision will be at the discretion of the Taipei Times.