Social support, exercise touted as cures for the blues
A social support system, proper medical care and counseling can contribute to the recovery of a patient suffering from depression, a non-profit social service organization said yesterday.
Jeffery Su (蘇禾) the secretary-general of the Can Love Foundation, said those three factors are a "golden health triangle" for patients fighting melancholia.
According to Su, there are many medical resources for fighting depression available in Taiwan, but many people have a weak social support system.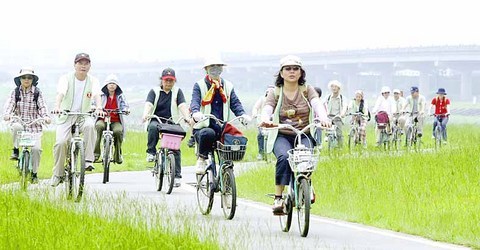 Doctors, patients suffering from depression and members of their families ride bicycles in Dazhi District in Taipei yesterday.
PHOTO: LIN CHENG-KUNG, TAIPEI TIMES
"[We] hope through the society's appeal, a discussion on how to set up a complete support system in the family and the establishment of more social groups, more patients may be able to enjoy full support even outside the family," Su said.
Su encouraged patients to seek professional advice. Behavioral therapy and counseling may be helpful in addressing depression, he added.
Earlier yesterday, the foundation invited nearly two hundred volunteers, patients suffering from depression and their family members to enjoy bicycle rides in Taipei City's Da Jia Riverside Park.
The organization emphasized to the attendees the importance of exercise in fighting mental illness.
Exercise stimulates the production of endorphins in the body, which helps depressed patients regain positive emotions, said the foundation's supervisor Kan Hsiao-yan (康曉妍).
Kan, who also serves as a resident family practice doctor at the Li Shin Hospital, suggested that patients do aerobics at least three days a week for twenty to thirty minutes.
"These activities motivate the lymphatic system and activate our immune system," Kan said. "Patients suffering from depression may also gain a sense of self-control and confidence when exercising."
Drawing from his own experience as a victim of depression for more than three years, Su said that swimming had helped.
"We hope that people agonized by depression will give themselves some relief by exercising," he said.
Comments will be moderated. Keep comments relevant to the article. Remarks containing abusive and obscene language, personal attacks of any kind or promotion will be removed and the user banned. Final decision will be at the discretion of the Taipei Times.