Chiu Yi accuses official of graft
ALLEGATIONS KMT Legislator Chiu Yi alleged corruption by Presidential Office Deputy Secretary-General Ma Yung-cheng, who responded by threatening to sue
Chinese Nationalist Party (KMT) Legislator Chiu-yi (邱毅) yesterday accused Presidential Office Deputy Secretary-General Ma Yung-cheng (馬永成) of being involved in two syndicates which he said had embezzled billions of dollars from investors.
Chiu made the remarks in a press conference at the legislature, where dozens of people said that they had been deceived into investing in projects set up by the syndicates.
"Chen Yu-shen (陳育珅), the key figure behind the two syndicates, defrauded more than 30,000 people of some NT$15.3 billion [US$473 million] by working under Lu Chung-ming (呂崇民), and Lu is Ma's cousin," Chiu said.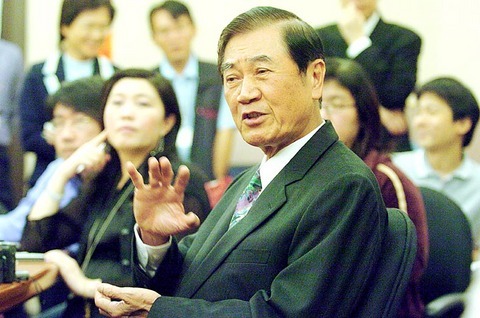 Presidential Office Secretary-General Mark Chen gestures yesterday while commenting on recent accusations leveled against first lady Wu Shu-jen. Chen said Wu had not received any inappropriate gifts from anyone.
PHOTO: GEORGE TSORNG, TAIPEI TIMES
Investments
Chiu said that Lu had publicly endorsed Chen's investment projects, encouraging investors to back Chen's firms.
"Lu appealed to the investors saying that he had a very strong supporter in the Presidential Office. The `supporter' he referred to was Ma," Chiu said.
Chiu said that prosecutors had indicted Chen Yu-shen, who was then running the Futung Group (阜東集團), on fraud charges and racketeering in 2003, recommending a 14-year jail term, but that a verdict hadn't been reached until now.
"It was all because of Ma's intervention," Chiu said.
"Ma's illegal lobbying regarding Chen Yu-shen's lawsuit gave him another opportunity to embezzle more money from investors of Chant World International Co," Chiu said.
Democratic Progressive Party (DPP) caucus whip Chen Chin-jun (陳景竣) said yesterday that Ma was furious at Chiu's groundless charges against him and that he was willing to resign from his post if Chiu could present evidence within three days.
"Otherwise Chiu should resign from his legislative seat and take responsibility for his libelous comments," Chen Chin-jun said after attending a weekly meeting of the Presidential Office and the DPP legislative caucus.
Chiu also said that DPP Legislator Hsu Jung-shu (許榮淑), the president of Chant World International, was also involved in the embezzlement.
Hsu denied this, saying she was also a victim.
Chiu last week accused Ma of other misconduct, such as being involved in stock speculation with other DPP officials.
"This week will be Ma's week," Chiu said, adding that he would expose more scandals related to Ma in the coming days.
Ma issued a statement late yesterday afternoon denying any knowledge of or connection to the people Chiu mentioned.
First lady
Meanwhile, Presidential Office Secretary-General Mark Chen (陳唐山) yesterday told Chiu and another opposition legislator to step down or face a defamation lawsuit for falsely accusing President Chen Shui-bian (陳水扁), first lady Wu Shu-jen (吳淑珍) and Ma.
KMT Legislator Lee Chuan-chiao (李全教) yesterday accused Wu of accepting gift coupons from the Sogo Department Store and making tens of thousands of dollars worth of purchases.
The Presidential Office said it would file a slander suit against Lee, while Ma said he would not rule out filing a suit against KMT Legislator Chiu Yi (邱毅).
Mark Chen said that Lee and Chiu should produce evidence to prove their allegations.
"It is no longer a legal issue, but has become a political problem," Mark Chen said. "It is regrettable to see irresponsible politicians shamefully holding on to their positions after repeatedly making groundless allegations, and to see the public and media tolerate this behavior."
Lee asked the Presidential Office to make public the numbers of the Sogo Department Store gift coupons which he said Wu had used.
Mark Chen said it was impossible to produce them because the first lady had not accepted them in the first place. He said the administration welcomed and was not afraid of constructive criticism and stringent scrutiny, but that any criticism must be based on facts.
Meanwhile, a group of young DPP legislators yesterday asked the Presidential Office to offer a concrete explanation for the recent accusations of corruption against Presidential Office officials. They also said that more than half of DPP legislators had agreed to the establishment of a legislative committee to monitor corruption
DPP Legislators Shen Fa-hui (沈發惠), Tsai Chi-chang (蔡其昌), Hsieh Hsin-ni (謝欣霓) and Huang Wei-cher (黃偉哲) yesterday afternoon urged the Presidential Office to investigate the KMT's accusations and said a clean political environment was urgently needed.
Comments will be moderated. Keep comments relevant to the article. Remarks containing abusive and obscene language, personal attacks of any kind or promotion will be removed and the user banned. Final decision will be at the discretion of the Taipei Times.