MAC says China will not accept a `modus vivendi'
STUBBORN Mainland Affairs Council Deputy Chairman Liu Te-shun said that China was unlikely to change the way it treated Taiwan any time soon
The cross-strait issue facing Taiwan is a structural one and it was unlikely that China would agree to a modus vivendi, or a temporary accommodation of a disagreement between parties pending a permanent settlement, as a basis for negotiation, a senior official said yesterday.
Mainland Affairs Council Deputy Chairman Liu Te-shun (劉德勳) made the remarks yesterday in response to Chinese Nationalist Party (KMT) Chairman Ma Ying-jeou's (馬英九) proposal of a modus vivendi with China.
Ma said during his current trip to the US that if he won the 2008 presidential election, he would propose a modus vivendi to seek friendship and cooperation with China. Under this framework, Ma proposed resuming negotiations with China under the "1992 consensus," building a military trust mechanism, promoting a common market across the Taiwan Strait and expanding Taiwan's international participation.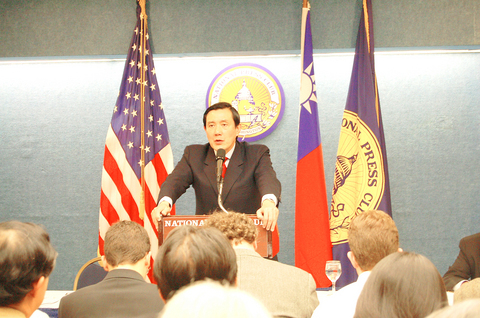 Chinese Nationalist Party (KMT) Chairman Ma Ying-jeou gives a speech at the National Press Club in Washington on Thursday.
PHOTO: WANG YU-CHUNG, TAIPEI TIMES
"No matter which party is in power, the China problem that Taiwan faces is still the same. China won't change the way it deals with Taiwan just because of a change in leadership in this country," Liu said at a press briefing yesterday.
Liu said many of Ma's ideas, such as the military trust mechanism, were similar to what President Chen Shui-bian (陳水扁) had previously proposed.
"However, China has never responded to the president's proposals," Liu said.
Regarding Ma's assertion that the "one China" in the "1992 consensus" referred to the Republic of China (ROC), Liu said yesterday that although this was theoretically correct according to the Constitution, in reality China had never recognized the existence of the ROC.
Additional reporting by Jimmy Chuang
Comments will be moderated. Keep comments relevant to the article. Remarks containing abusive and obscene language, personal attacks of any kind or promotion will be removed and the user banned. Final decision will be at the discretion of the Taipei Times.