Pingtung prosecutors lambasted
OUTRAGED FAMILY Relatives of rail employee Lee Shuang-chuan blamed his recent death by suicide on investigators who told the media he was a suspect
Family members of derailment suspect Lee Shuang-chuan (李雙全) yesterday harshly criticized pro-secutors investigating the March 17 incident, saying that Lee had been hounded to death after they released details of their probe to the media.
The family members made the accusation during a news conference at the Legislative Yuan.
Lee, whose Vietnamese wife was aboard the train with him and died after the derailment, committed suicide early on Thursday morning by hanging himself from a tree in his backyard. His death came after prosecutors began to suspect he may have been involved in causing the derailment.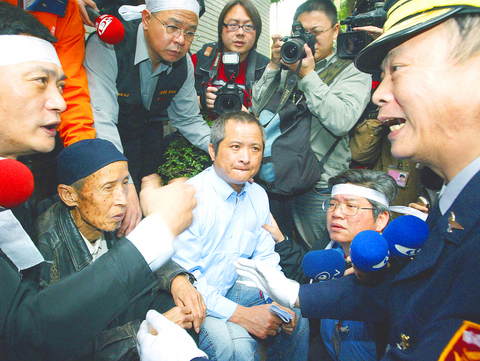 People First Party (PFP) Legislator Lin Hui-kuan, left, and Lee Shuang-chuan's father and brother, second left and center, yesterday protest in front of the Legislative Yuan against the allegedly inappropriate handling by prosecutors of Lee's case. Lee, a suspect in a recent train derailment, committed suicide on Thursday.
PHOTO: CNA
Their suspicions were aroused because Lee took out a NT$20 million (US$625,000) insurance policy on his wife that covered accidental death just days before the derailment, according to prosecutors. Lee's previous wife, also Vietnamese, also died under mysterious circumstances four years ago, they said. They also alleged that Lee had lost more than NT$33 million on the stock market between 2001 and 2004.
But yesterday, Lee's elder brother Lee Tai-an (李泰安) and Lee's 80-year-old father Lee Chu-pao (李聚寶) stressed that Lee Shuang-chuan had not lost NT$33 million on the stock market.
They were accompanied at the legislature by People First Party (PFP) Legislator Lin Hui-kuan (林惠官) and Taiwan Railway Labor Union president Chen Han-ching (陳漢卿).
"If my son owed so much money, why haven't I seen anyone from a commercial collector asking us for money?" said Lee's father, as tears streamed down his face. "The prosecutor hasn't given us an explanation. He has hounded my son to death. Will he still try to force me to die?"
"The prosecutor ought to give back our justice, give back my son's life!" the old man cried.
Lee's brother said the media's coverage had overwhelmed Lee Shuang-chuan.
"The United Evening Express hinted that my brother had `committed murder out of greed,'" he said while sobbing. "I will help my brother by fighting to win back his good name."
The chief prosecutor at the Pingtung District Prosecutors' Office, Chuang Jung-sung (莊榮松), who on late Thursday night announced that Lee Shuang-chuan had racked up heavy losses on the stock market, yesterday admitted that his office had made a mistake by miscounting the value of Lee Shuang-chuan's stock.
After double checking with the brokerage that Lee Shuang-chuan used, Grand Cathay Securities Corp (大華證券), the prosecutors office found that Lee had not lost so much money.
"We apologize to Lee's family if this mistake caused trouble for them," said Chuang.
Chuang said the task force is still calculating Lee Shuang-chuan's stock activity, and could not even say if he had made a profit or loss.
Meanwhile, Premier Su Tseng-chang (蘇貞昌) yesterday said that he believed in the prosecutors' professionalism. But he added that he would request an investigation to determine whether there was a leak in the prosecutors' office.
"It is my understanding that this case has been shifted from the Pingtung District Prosecutors' Office to the Kaohsiung District Prosecutors' Office now that the public do not feel comfortable letting Pingtung prosecutors continue their jobs after Mr Lee died. But I will support the prosecutors no matter what," Su said on the legislative floor yesterday.
The premier said he believed that there must have been a good reason for prosecutors to investigate Lee, and that there were many seeming coincidences about Lee Shuang-chuan and the case. However, Su said he felt sorry that Lee Shuang-chuan had decided to commit suicide.
Comments will be moderated. Keep comments relevant to the article. Remarks containing abusive and obscene language, personal attacks of any kind or promotion will be removed and the user banned. Final decision will be at the discretion of the Taipei Times.