`Matsu is everywhere' for festival
Matsu (媽祖) is everywhere, or she will be later this month when the annual eight-day pilgrimage in honor of the sea goddess' birthday takes place, starting in Dajia (大甲) Township, Taichung County, on March 25.
Hundreds of thousands of people are expected to join the 280km procession that will pass through four counties -- Taichung, Changhua, Yunlin and Chiayi -- and visit around 80 temples. Matsu is the goddess of the sea and one of Taiwan's most venerated deities.
At a press conference yesterday in Taipei's Red Playhouse, Taichung County Commissioner Huang Chung-sheng (黃仲生) said the festival would be bigger and better than ever.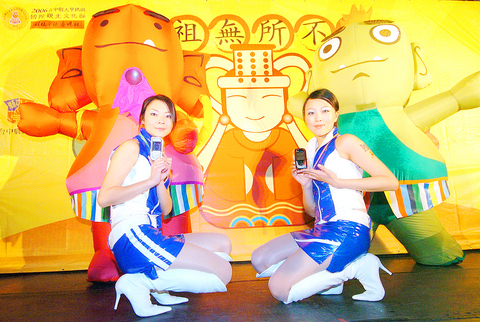 Two models display ``safety amulets'' downloaded into cellphones in front of a pair of huge inflated mascots representing the two guardians who accompanied the goddess Matsu at a press conference held yesterday at Taipei's Red Playhouse to announce the upcoming Matsu International Festival.
PHOTO: CHEN TSE-MING, TAIPEI TIMES
"There will be an increased number of shows from local and international performers. This will make the event even more exciting and appealing to young people and tourists," Huang said.
From tomorrow in Dajia at the Yu Jan Shin Culture Center there will be an exhibition of Matsu statues and garments, followed by traditional activities at locations in Taichung County such as dragon, lion and folk dances, martial arts exhibitions and acrobatics.
The pilgrimage is slated to begin at 11:05pm on March 25, departing from Zhenlan Temple in Dajia and led by a messenger wearing one sandal (to represent the fact he is oblivious to his own comfort) and holding an umbrella from which a pig's foot dangles.
He will be followed by a spectacular procession of flag and incense bearers, bands, troupes dressed in ancient army costumes, goddess puppets and traditional musicians.
Typically, followers seek a blessing from the goddess by kneeling before the Matsu palanquin and letting it pass over them, while firecrackers are let off.
Taking as its theme this year the phrase "Matsu is everywhere," tradition has been updated by introducing three mascots representing the goddess and her two celestial followers: Qian Li Yan (who can see for 1,000 miles) and Shun Feng Er (who hears everything carried on the wind).
These cartoon figures were unveiled at the press conference yesterday and can be downloaded on GPRS-enabled phones by sending the message "MA" to the number 55818.
Outside the Red Playhouse yesterday, the Taipei Times met up with independent legislator Yen Chin-piao (顏清標), who was convicted in 2002 on charges of corruption, attempted murder, possession of illegal firearms and obstruction of justice.
President Chen Shui-bian (陳水扁) was quoted in 2001 as saying the legislator would never be free from trouble even if he "prayed for help from Matsu."
But Yen was clearly enjoying the spotlight as one of the principal organizers of the festival and said the event would continue to grow in importance.
"Most Taiwanese grow up praying to Matsu so there will always be interest in her. This is the biggest and most significant religious event in the country and is an expression of our culture," Yen said.
Comments will be moderated. Keep comments relevant to the article. Remarks containing abusive and obscene language, personal attacks of any kind or promotion will be removed and the user banned. Final decision will be at the discretion of the Taipei Times.