Gay rights activists attack obscenity law
Gay rights activists yesterday gathered at 228 Peace Park and called for the abolition of Article 235 of the Criminal Law (刑法), which bans the sale or distribution of "indecent" materials. They said that the article was in violation of their sexual rights.
Wang Ping (王蘋), director-general of the Gender/Sexuality Rights Association of Taiwan, said that the 228 Peace Park was a symbol of the lifting of martial law in the country, but that "martial law" on gay and sexual rights had not been abolished.
Wang said that homosexual rights are heavily restricted and gays are often described as "obscene" and "perverts."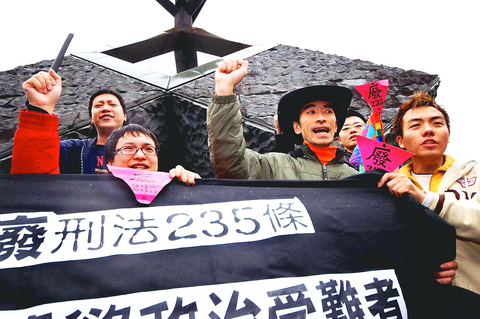 J.J. Lai, second right with a cowboy hat -- the owner of the nation's first gay bookstore -- and human rights activists yesterday protest at the 228 Peace Park, calling on the government to abolish Article 235 of the Criminal Code.
PHOTO: CHENG HSUEH-YUNG, TAIPEI TIMES
J.J. Lai (賴正哲), the owner of Gin Gin's Bookstore who was convicted by the Keelung District Court nearly three years ago for selling gay magazines and "offending public morality," said that he had just paid a fine of NT$45,000 (US$1,406) to the court after two failed appeals.
Lai has also appealed to the Council of Grand Justices on the constitutionality of Article 235, which bans the sale, circulation and public display of obscene publications.
Unfazed by the failed appeals, Lai said: "This is a chance for gay rights activists to challenge the law and see that changes are made."
An alliance of gay and gender rights groups has also been formed to challenge the article.
The terms "indecent" and "obscene" should be clearly defined, because judges were allowed too much discretion to decide what constitutes obscenity, Lai said.
Academics in the alliance also discovered that Article 235 dates back to 1922, he said.
Lai said that it was high time for the article to be abolished.
"Sexual rights should not be under the control of the government. They cannot regulate what you can or cannot read, or whether what you read is `obscene' or not," Lai said.
The alliance plans to launch an "Abolish Article 235" movement on June 27 to mark the anniversary of the Stonewall riots in 1969.
The Stonewall riots were a series of violent conflicts between homosexuals and police officers in New York City. The first night of rioting began on June 27, 1969, when police raided the Stonewall Inn, a gay bar in Greenwich Village.
The incident is generally considered a turning point for the modern gay rights movement worldwide since it marked the first time that a significant number of homosexuals resisted arrest and fought back.
Comments will be moderated. Keep comments relevant to the article. Remarks containing abusive and obscene language, personal attacks of any kind or promotion will be removed and the user banned. Final decision will be at the discretion of the Taipei Times.